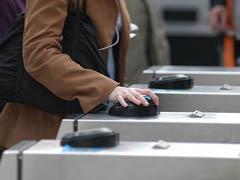 UK: Transport for London announced on August 8 that it has given the required two years' notice of termination of its £100m a year contract with TranSys for the operation and maintenance of the Oyster smartcard ticketing system. TranSys shareholders are Cubic Systems, IT suppliers EDS and Fujitsu Services, plus consultancy WS Atkins.
The Prestige Private Finance Initiative contract to develop, install and operate the system began in 1998 and will now be terminated at a 10-year break point.
Both parties emphasised that the termination was unconnected with two recent breakdowns of the Oyster system. TranSys explained that contract negotiations had been taking place over the past year and the consortium 'will continue to operate and deliver for the next two years'.
TfL that both it and the Mayor of London Boris Johnson 'are convinced that any new contract will deliver enhanced services for less money, driving significant savings'.
There are concerns that the contract termination could potentially affect plans to produce a multifunction smartcard pass for the London 2012 Olympics which would combine travel within London with entrance tickets to events.