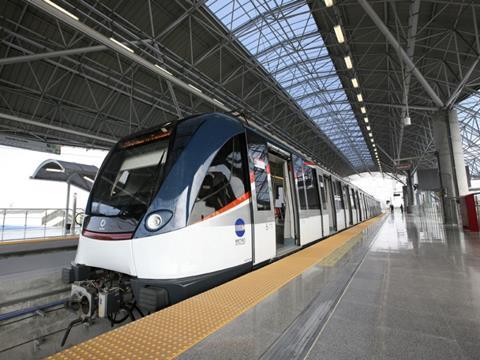 PANAMA: Three consortia have bid to build Line 2 of the Panamá City metro:
Línea 2: Odebrecht and FCC, which formed the Línea Uno consortium that built Line 1;
UTE Panama II: Dragados, ICA and Graña y Montero;
PANAMetro-Cosorcio Internacional Metro de Panamá L2: China Harbour Engineering Co, China Railway First Group, Corsán-Corviam.
The bids are to be weighted 51% on engineering and 49% on finance. In addition, the bidders have to provide a deposit of US$50m. The construction period is 46 months and the cost is expected to be US$2bn.
The first phase of Line 2 would run west from Nuevo Tocumen to San Miguelito, where interchange would be provided with Line 1. The 21 km elevated alignment would include 14 intermediate stations.
Initial demand is forecast at 16 000 passengers/h, although the design capacity is 40 000 passengers/h. Headways would initially be 3 min, with the possibility of reducing to 90 sec.
A fleet of 21 five-car trainsets is to be procured, which would draw power at 1·5 kV from overhead wires.
A 2·2 km eastern extension with one station at Felipillo is planned in the longer term.