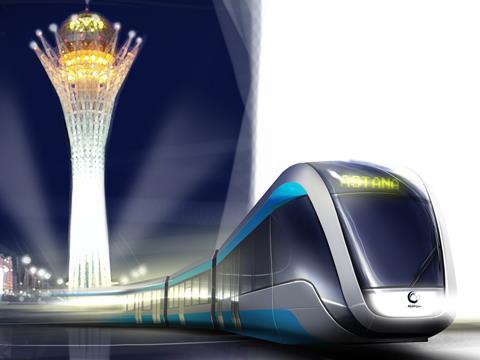 KAZAKHSTAN: President Nursultan Nazarbayev laid a foundation stone at Nazarbayev University to launch construction of Astana's planned 41·8 km light rail network on July 4.
Scheduled to open from 2014, the line will run from the international airport to the Abu Dhabi Plaza development, where it will split into two to reach the main station by a direct western route and more circuitous eastern route.
Project developer Astana LRT has awarded the turnkey construction contract to a consortium led by Alstom. Almaty Invest Stroï Project will undertake civil works, including 10 km of viaduct, and will build the 27 stops. Alstom will be responsible for tracklaying, power supplies, signalling, passenger information and ticketing systems, the depot and the air-conditioned rolling stock, which will be a 1 520 mm gauge Citadis variant winterised for temperatures of -40°C to 40°C.
Construction is to be undertaken in three phases. Work on the initial 16·4 km with eight stations between the airport and Abu Dhabi Plaza is set to get underway in August, with completion scheduled for December 2013 and opening in 2014. There will be an initial fleet of 12 three-section 31·5 m long trams with capacity for 250 passengers. Alstom says its share of the work on this phase is worth more than €300m.
Phase two will comprise the 7·9 km western route through the city centre from Abu Dhabi Plaza to the main station, with six stops. Work on this phase is scheduled to start next year for opening in 2014. The final phase covers the 17·6 km eastern loop with 13 stops. APS ground-level power supplies may be used in place of catenary on sections of the second and third phases.