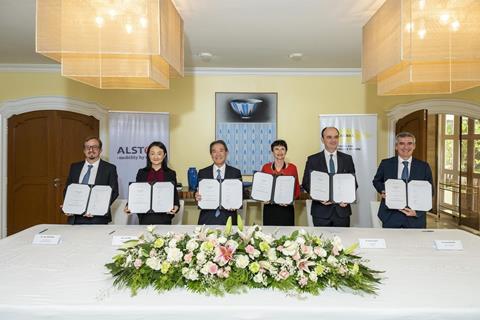 PHILIPPINES: Alstom is to install ETCS Level 2 on sections of the North-South Commuter Railway in Manila totalling 106 km under a €1·1bn contract awarded by Mitsubishi Corp in early March.
The contract is for provision of railway systems for the NSCR Extension, which covers the 55 km South Commuter Railway between Tutuban and Calamba, and the 51 km northern section from Malolos to Clark International Airport; the NSCR Phase 1 segment between Tutuban and Malolos is not in scope.
Alstom will deliver the railway systems package in partnership with Colas Rail. Alstom will be responsible for systems integration, signalling and telecommunication, power supply, automated fare collection, platform screen doors, maintenance and depot equipment, as well as a control centre and staff training programmes.
It will also supply its Atlas 200 ETCS equipment to enable Level 2 functionality; the company says this will be the first deployment of ETCS Level 2 in southeast Asia. Colas Rail will supply and install the trackwork and overhead electrification equipment.
'We are excited to be partnering with the Philippines, Mitsubishi Corp and Colas Rail to pioneer the implementation of southeast Asia's first ETCS level 2 system for the NSCR Extension. This project not only solidifies our market leadership in the region but is also a bold step in the country in achieving an integrated rail network that applies advances in mainline signalling for more efficient and sustainable mobility', said Ling Fang, President of Asia Pacific at Alstom.
Being financed by Japan International Cooperation Agency and serving 27 stations, the NSCR Extension routes are expected to open by the end of 2029.