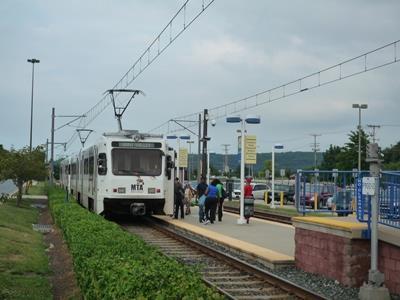 USA: Construction of Baltimore's east-west Red Line light rail route is expected to get underway in 2015, following the announcement of a $1·5bn transport investment programme by Maryland's Governor Martin O'Malley on September 4. This is intended to support schemes totalling $4·4bn included in Maryland Department of Transportation's draft six-year budget.
Unveiling the package at the West Baltimore commuter rail station, O'Malley said the funding would support more than 13 000 jobs, reduce traffic congestion, and revitalize communities. 'To create jobs, a modern economy requires modern investments like the ones we are announcing today', he explained.
Expected to open around 2021, the 22·6 km Red Line will connect Woodlawn in Baltimore County to the Johns Hopkins Bayview Medical Center campus on the east side of the city, connecting with the existing north-south light rail line, the Baltimore Metro and MARC commuter rail services. The line is expected to be carrying around 54 000 passengers/day by 2030.
Maryland Transit Administration completed its Final Environmental Impact Statement for the Red Line in December 2012, and received a Record of Decision from the Federal Transit Administration in March 2013. The funding package provides $689m in state funds for the project, including $170m for right-of-way acquisition and final design and $519m for construction work. Further funding would come from Transportation Trust Funds, federal and regional contributions as well as private sector investment. Pending funding, construction could start as early as 2015 and be open for service by 2021.
MTA intends to develop the Red Line through a combination of public and private funding, tendering a series of design-bid-build contracts for the civil works such as tunnels, structures and stations, and offering a PPP concession to supply and maintain the E&M works. The PPP elements have yet to be finalised, but could include the rolling stock, depot, control centre, track, signalling and power supply. MDOT would make availability payments to the concessionaire under a regime including performance incentives.
Other rail allocations in the funding package include $246m for the Baltimore Metro, covering replacement of the existing fleet of 100 EMU cars and resignalling of the 24 km route. A further $52m will fund the purchase 10 new diesel locomotives for MARC commuter rail services, to replace existing motive power and enable an increase in services on the Camden Line. In addition, O'Malley announced $46m of support for the introduction of weekend trains on the Penn Line. These will start from December 7, providing nine trains each way on Saturdays and six on Sundays.
'Today is about showing the state that Baltimore City wants the Red Line, and understands that building an integrated, world class transit system is critical for creating jobs and providing citizens with better access to those jobs', said the city's Mayor Stephanie Rawlings-Blake said. 'These critical investments are the key to unlocking Baltimore's potential to grow'.