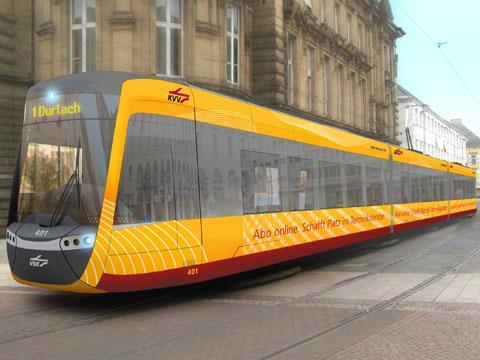 UK: Funding for a £58m tram-train pilot scheme which will use the Supertram light rail network and a freight line to link Sheffield and Rotherham was confirmed by Transport Minister Norman Baker on May 17.
The project includes the acquisition of seven tram-train vehicles, a 400 m connection between Supertram and the Network Rail line, and 750 V DC electrification of the railway section.
The pilot service is scheduled to run for two years from 2015, with a view to permanent operation. Three services an hour will run from Parkgate Retail Park in Rotherham to Rotherham Central station and Sheffield city centre, with a journey time of 25 min.
The project is being led by South Yorkshire Passenger Transport Executive in partnership with the Department for Transport, Network Rail, franchised train operator Northern Rail and tram operator Stagecoach Supertram.
Northern Rail has identified Vossloh as lead bidder to supply seven tram-train vehicles for the new service and also to increase capacity on existing Supertram routes. Because its franchise ends before the two-year trial the contract will be let by SYPTE. The vehicles will be operated by Stagecoach Supertram.
The tram-train vehicles will meet higher crashworthiness standards than trams, and will be fitted with wheel profiles and headlights meeting both road and rail standards. They will be equipped with GSM-R and the Train Protection & Warning System, which is to be installed at all signals on the Network Rail section of the route.
According to DfT, the pilot project aims to:
Understand the changes to industry costs of operating a lighter vehicle with track brakes on the national rail network;
Determine the changes to technical standards required to allow mixed operation of tram-trains with conventional passenger and freight trains and to gain the maximum benefit:cost ratio;
Assess passenger perception;
Determine the practical and operational issues raised by through running from the rail network to on-street track;
Understand technical and operational challenges so the concept could be rolled out elsewhere.
'Tram-trains have already proven hugely popular on the continent', said Baker. 'Now we will be able to test whether they can bridge the gap between tram and train networks in this country.'
Transport for Greater Manchester Committee Chairman Councillor Andrew Fender said he would be watching the pilot closely. 'We have begun work to understand whether this technology could be deployed within Greater Manchester', he said. 'Tram-train could combine the advantages of the better access to the city centre our Metrolink tram system provides with the reach of the rail system into neighbouring districts. It has the potential to both improve public transport for passengers while also making our local rail services more cost-effective.'