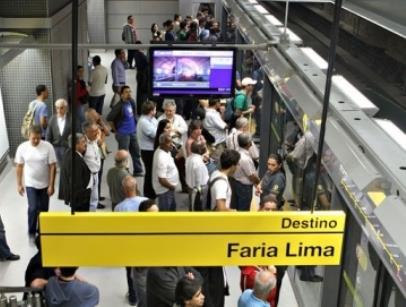 BRAZIL: The initial 3·6 km central section of the Yellow Line between Paulista and Faria Lima was officially inaugurated by Alberto Goldman, Governor of the state of São Paulo, on May 25. Guests were entertained by Japanese taiko drummers Ryukyu Koku Matsuri Daiko at Faria Lima station and the Tom Maior samba school at Paulista.

A free shuttle service will be operated between 09.00 and 15.00 on weekdays until commercial operation begins in mid-June; the intermediate stations at Fradique Coutinho and Oscar Freire are not yet open.

The line is being built by the ViaQuatro consortium under the country's first PPP project. Once completed in 2012, it will be 12·8 km long, with 11 stations, linking the Luz district in the city centre to Vila Sônia in the west. Interchanges will be provided to metro Line 1 and CPTM lines 7, 10 and 11 at Luz, Line 3 at República, Line 2 at Paulista and CPTM Line 9 at Pinheiros

Line 4 will initially be worked by 14 six-car trains supplied by Hyundai Rotem; a further 90 cars are to be acquired for Phase II. Siemens Trainguard MT CBTC allows driverless operation, and platform screens doors have been installed to protect the platform/track interface. The concessionaire has spent US$450m on equipment and rolling stock, and estimates that its total investment will reach US$2bn during the 30-year operating contract.

During the opening celebrations, Secretary of State for Metropolitan Transport José Luiz Portella predicted that São Paulo's urban rail network would reach 240 km by the end of 2010 and 420 km by 2014. 'We need a large integrated network, so that everyone can move around quickly, in comfort and safety. This is not only a plan to expand metropolitan transport, it is also a repossession of the city', he said.