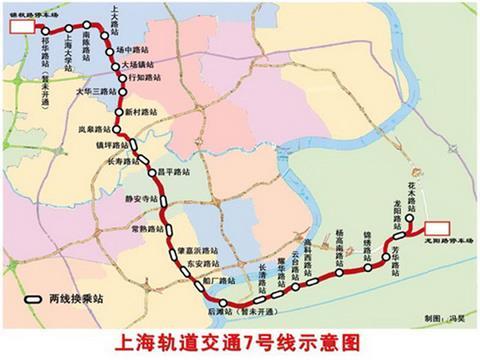 CHINA: Passenger services on the first section of Shanghai Metro Line 7 were launched at 09.00 on December 5. The line is also known as the Expo Line, as five stations will serve the 2010 World Expo north and south sites and the Expo Centre at Huamu Road.

The initial 35 km 27-station section between Shanghai University and Huamu Road is being worked with 24 six-car trains running at 6 min intervals between 09.00 and 16.00. Services will soon be extended to operate from 05.30 to 23.00 and a further 10 trains will be introduced before the 2010 World Expo starts on May 1 2010.

Line 7 will eventually be extended to Meilanhu in the northwest of Shanghai. Seven stations offer transfers to existing lines, and in the future there will be interchanges with lines 9, 12 and 13.