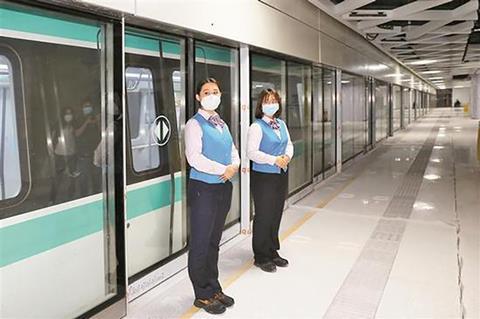 CHINA: A further two metro lines in Shenzhen opened on August 18, expanding the network by 78 km to 373 km and adding 51 stations.
The 49 km Line 6, also known as the Guangming Line, is a partly underground 100 km/h commuter line. Running from the Science Museum northwest to Songgang, it serves 12 underground and 15 elevated stations.
The line forms part of the third phase of metro expansion in Shenzhen, with construction approved in 2013 and beginning in August 2015 under a public-private partnership model. Trial running began in January this year.
Line 6 forms part of the city's green metro programme, which includes measures to reduce noise and vibration, preassembled ballastless track to reduce the amount of concreting works required in urban areas, and photovoltaic cells at the elevated stations which provide 30% of the electricity needed for lighting.
CRRC Nanjing Puzhen has supplied 51 six-car aluminium bodied Type A trainsets, which have a crush loading capacity of 2 738 passengers.
Line 10 to relieve Line 4
The north–south Line 10, known as the Bantian Line and originally designated as Line 16, runs underground for 29·3 km from Futian Checkpoint on Line 4 to Shuangyong Street, serving 24 stations. Part of the route runs parallel to Line 4, and it is expected that Line 10 will help to ease severe congestion on the existing line. Construction began in October 2015 and trial running started in March.
CRRC Changchun has supplied 35 eight-car 80 km/h Type A trainsets with a capacity of 2 144 passengers to operate Line 10. The main depot at Liangmaoshan is augmented by a two-level stabling point at Yitian, near the southern end of the route.
An infill station at Gangxia Bei is expected to open in 2021. In the longer term, a five-station northeast extension to Huangge is planned, as well as a southern two-station extension to Jinhu Lu.
A further four extensions of lines 2, 3 and 4 are scheduled to open this year.