UK: The University of Birmingham and Siemens Mobility Ltd have announced an academic framework research collaboration, deepening the relationship between the two organisations.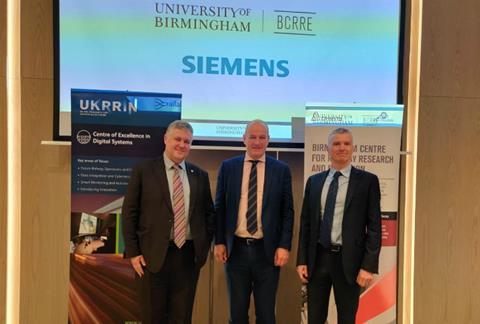 The collaboration is intended to allow the University of Birmingham and Siemens Mobility to 'advance the industrial application of fundamental academic research, whilst furthering the university's R&D capabilities'.
The first stage of the partnership will see the Birmingham Centre for Railway Research & Education work with Siemens Mobility to deliver a pipeline of innovation for the rail industry, developing the application of fundamental research by working with a range of partners across the supply chain.
The collaboration was formally agreed on February 26 between University of Birmingham Provost Prof Tim Jones and Siemens Mobility CEO William Wilson during BCRRE's Destination Digitalisation event. At the same event, University of Birmingham outlined its involvement in the Rail Accelerator & Innovations Solutions Hub for Enterprise, which forms part of Siemens' project to develop a UK assembly plant in Goole.
RAISE is being established to accelerate collaboration and innovation in rail technologies in the UK and globally. The facility will focus on providing research and development support, enabled by a network of partners from the rail industry and higher education. A Supply Chain Community Hub at the site will offer a high-quality facility for start-ups and small and medium enterprises. The hub is intended to become a regional facility for developing supply chain knowledge and capability whilst connecting local companies with wider rail opportunities.
'This collaboration is the beginning of a long term alliance with Siemens, strengthening the connections between academia and industry and producing products and services that will be of real benefit to the industry as a whole', said Prof Clive Roberts, Director of BCRRE.
BCRRE has also agreed to work with the National Rail & Transport Institute of India to establish a joint MSc programme in Railway Engineering. This would see Indian students spend a year studying at each institution. The two organisations are also planning to develop a module for undergraduate students taught by a post-doctoral academic with guest lectures from a Birmingham professor.