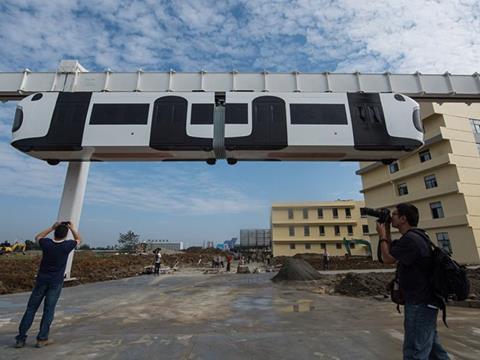 CHINA: CRRC Nanjing Puzhen's Sky Train suspension monorail began running on a 300 m test track in Chengdu on September 30.
Developed in conjunction with Chengdu's Southwest Jiaotong University, the suspension monorail has been designed for use in smaller cities and scenic places. Chief designer Zhai Wanming estimates that the cost per km of the Sky Train would be between 12·5% and 20% of that for an underground metro line.
The prototype trainset was unveiled in Nanjing on September 10. Its design is inspired by the giant panda, which is native to Sichuan province of which Chengdu is the capital. The two-car set is powered by lithium batteries, are recharged at stops, and has a maximum speed of 60 km/h. Each car has capacity for 120 passengers and is fitted with two double doors per side.
The test track is to be lengthened to 1·2 km, and public services are expected to begin running next year.