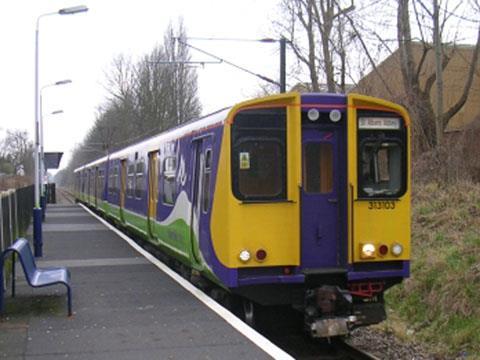 UK: Consultation on the introduction of tram-style vehicles to replace heavy rail services on the Watford Junction - St Albans Abbey line was announced by Secretary of State for Transport Lord Andrew Adonis on October 30.
The 10 km branch operated by the London Midland franchise currently carries 450 000 passengers a year with a 16 min end-to-end journey time, including stops at five intermediate stations. Trains run every 45 min, but Hertfordshire County Council has long been keen to see a half-hourly clockface timetable to provide an attractive and reliable alternative to the congested parallel road corridor.
However, studies priced the reinstatement of the necessary passing loop and related signalling changes to heavy rail standards at an 'unviable' cost in excess of £5m.
This spurred the council to seek alternative options. Work by consultancy Mott MacDonald suggested that the use of lightweight vehicles and undertaking infrastructure changes to light rail standards, including basic signalling of the planned loop and a level crossing, would allow an increased service to be provided within the funding currently allocated to the heavy rail service. A second loop would become a realistic option, permitting three tram services per hour.
Councillor Stuart Pile, Executive Member for Highways & Transport, told Railway Gazette International that the proposal has received enthusiastic support from Lord Adonis, who is keen to see rapid progress. The project also has the backing of infrastructure owner Network Rail and London Midland.
The council has now launched 12 weeks of consultation with other local authorities, passengers and potential users. It is hoped that Network Rail will transfer responsibility for the line and stations to Hertfordshire County Council under a 99-year lease. The council will then call tenders in mid-2010 for operation of the tram service, with a launch envisaged for 2011.
The council will procure rolling stock based on recommendations from potential operators and technical assistance from the Department for Transport. The selection of vehicles is still some way off, but DfT suggested they would be 'probably previously used elsewhere in Europe'. Extensive standing space would mean fewer seats than in the current electric multiple-units, but this would be offset by a more frequent service which would also run later at night. Up to four vehicles could be needed, and Network Rail land for a depot has been identified at St Albans Abbey.
No decision has been taken on the future of the line's 25 kV 50 Hz electrification, though Pile points out that 'a lot of thought will be needed' because of the long-term possibility of future tram extensions, which could include street running into central St Albans, and possibly a link to St Albans City station on the Midland Main Line. Reinstatement of the former railway to Hatfield is also seen a long-term possibility, though some development has occurred on the original alignment.
'To encourage more people to use public transport, it's vital we give passengers a service which suits them', said Adonis. 'The proposed new trams would provide a more regular service and I am glad to be working with Hertfordshire County Council to take forward these exciting plans.'