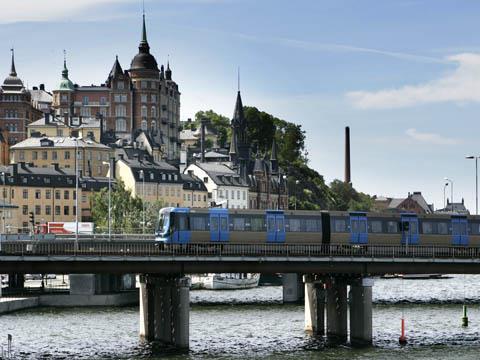 SWEDEN: Storstockholms Lokaltrafik has invited prequalification bids for the supply of its next generation of metro trainsets. In an OJEU notice published on April 8, bidders have been given until May 25 to apply.
SL is planning to order an initial build of 80 vehicles, designated C30, with options for a further 115 cars. Deliveries are scheduled for 2013-17. Each unit will be around 46 m long, which is similar to the 270-strong fleet of C20 cars supplied by Bombardier over the past decade; these articulated vehicles replaced older bogie cars on a 3-for-8 basis.
The C30s are intended replace the last of SL's traditional bogie cars, which currently operating on the Red and Blue lines. The option will provide additional stock to operate more frequent services after new signalling and automatic train operation are introduced in 2014.
Earlier this year SL conducted trials with modified seating layouts on two Red Line cars, which were intended to contribute to the design of the C30 fleet. The standard layout accommodates 48 seated and 106 standing passengers. One of the trial layouts had longitudinal seating for 31 and a wheelchair space, increasing standing space and raising car capacity by about 13%. The other retained some transverse seating, but provided only 25 seats per vehicle.
According to General Manager Ingemar Ziegler, the new interior layouts will also help to shorten station stops, matching the tighter headways available with ATO.