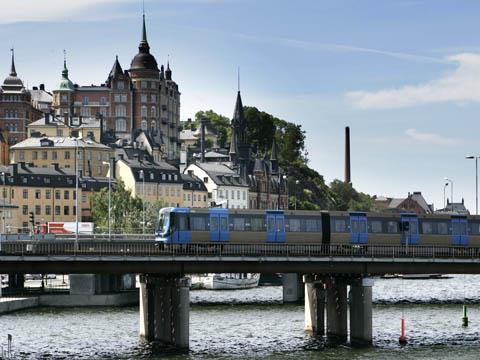 SWEDEN: MTR Corp has been named the winner of a concession to operate the Stockholm metro from November 2. The Hong Kong transport operator saw off five rival bids for the contract, which runs for eight years with a possible six-year extension.
'MTR submitted the best bid from a quality standpoint, and that was decisive in this procurement', said Ingemar Ziegler, Managing Director of transport authority Storstockholms Lokaltrafik.
SL will pay MTR a fixed price of SKr2·4bn a year, and the contract also contains financial incentives worth up to SKr145m a year based on the number of trains run, cleanliness, punctuality and customer satisfaction. 'We expect a substantial improvement in quality at about the same cost', said Ziegler.
SL will continue to own and maintain the infrastructure, with MTR responsible for operations, customer service, cleaning and snow clearance. Maintenance of the fleet of 500 cars which is currently undertaken by a joint venture of SL and incumbent operator Veolia will be transferred to MTR, which plans to work on the trains in partnership with Norwegian firm Mantena. The 3 000 metro employees will transfer to MTR.
'We should not expect radical changes on 2 November 2, but I am convinced that, in the long term, the agreement with MTR will drive an improvement in quality that will increase customer satisfaction and attract more customers to the metro', said Zeigler.
The metro has 100 stations on three lines totalling 108 km, and carries around 1·2 million passengers on a typical weekday.
Bidders for Stockholm metro contract
Arriva Skandinavien, Keolis Nordic and Stockholm Tub
ISS TraffiCare, ISS Facility Services and Svenska Tågkompaniet
MTR Corp
S-Bahn Berlin
T-banebolaget Stockholm (EurailCo and DSB Sverige)
Veolia Transport Sverige