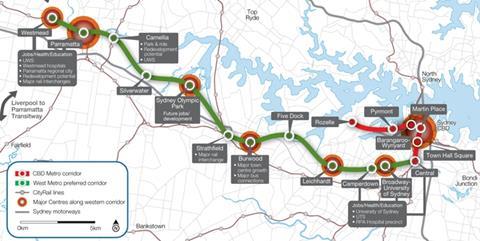 AUSTRALIA: Following completion of an A$30m feasibility study and initial planning work, the government of New South Wales revealed details of the proposed West Metro alignment from Central to Paramatta and Westmead on June 30.
An extension of the initial five-station 7 km metro from Rozelle to the CBD, West Metro will operate along the city's busiest corridor to the western suburbs, with a total of 11 stations. The 24 km line will support expected growth along the route, and serve key residential and employment centres, which are being revitalised, as well as the Sydney Olympic Park and the University.
The study was jointly funded by the NSW and Australian governments. A further A$91m has been provided by the Australian government to fund detailed planning and pre-construction work. Subject to additional finance becoming available, construction of the West Metro could begin in 2011. In order to start the planning approval process, a Preliminary Environmental Assessment and Project Application now has to be lodged with the Department of Planning.
Pre-construction work is already underway on the A$4·8bn CBD metro, which is fully funded by the NSW government, whilst the detailed planning and environmental assessment is being finalised. With construction due to start next year, the line is expected to be operational by 2015.
In the longer term, an extension of the CBD metro beyond Rozelle towards northwest Sydney is envisaged, as well as an East Line connecting Malabar, in the south, to the Northern Beaches, via the CBD stations at Martin Place and Town Hall Square.