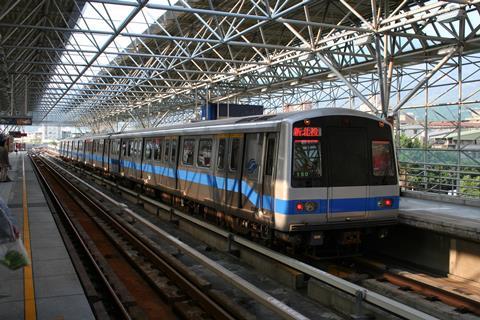 TAIWAN: Taipei's Department of Rapid Transit Systems has awarded an integrated turnkey contract worth €334m for the first phase of the city's Circular Line automated metro. Services on the 15·5 km route, which will have 13 elevated stations, one underground station and a depot, are expected to begin by the end of 2015.
Ansaldo STS has received a €220m order to supply E&M equipment, including driverless technology and CBTC Radio signalling, whilst AnsaldoBreda will supply 17 four-car trains at a cost of €114m. The contract is due to be signed by DORTS, Ansaldo STS and AnsaldoBreda in early April.
The initial section of the route will serve the southwest quadrant of the island's capital, running from an interchange with TRTC's Xindian (Green) Line at Dapinglin in the south of the city to connect with the new airport express line to Taiwan Taoyuan International Airport Line at Wugu Industrial Park in the west.
Connections will be provided with the Zhonghe Line at Jing'an, and with the Blue Line, TRA and THSRC services at Banqiao. At Touqianzhuang the Circular Line will connect with the southwestern branch of the Zhonge Line to Xinzhuang and Huilong, which is due to open at the end of 2009.
In the longer term, the Circular Line will be extended to 52 km, connecting with 11 metro lines and passing through 10 administrative districts across Taipei City and Taipei County. The remaining 36 km, 32 stations and two depots are to be built in two further stages.