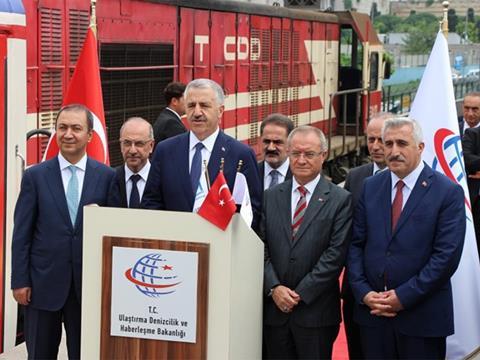 TURKEY: An inaugural diesel test train operated along part of the European section of Istanbul's 77 km Marmaray cross-city suburban corridor on May 23.
Transport Minister Ahmet Arslan was onboard the diesel locomotive that ran between Halkalı and Kazlıçeşme, a distance of 20 km. This forms part of the route between the Bulgarian border and Istanbul's Sirkeci terminus. Work has been underway since 2013 to rebuild the alignment, including electrification and triple-tracking.
A dedicated pair of tracks is being provided for Marmaray trains, while the third is being equipped with ETCS for long-distance passenger and freight traffic. The suburban stations have also been extensively modernised during a blockade which has seen most rail traffic suspended.
The trans-Bosporus railway tunnel linking the European and Asian sides of the strait opened in 2013, since when national operator TCDD Tasımacılık has operated an isolated shuttle over the 13 km between Ayrılıkçeşme and Kazlıçeşme.
Arslan reported that the Marmaray surface works are now 82% complete, with final signalling and commissioning work likely to be undertaken between August and December. The completed high-capacity corridor is expected to carry 1·2 million passengers per day using a fleet of 440 Hyundai Rotem EMU cars procured in 2008.