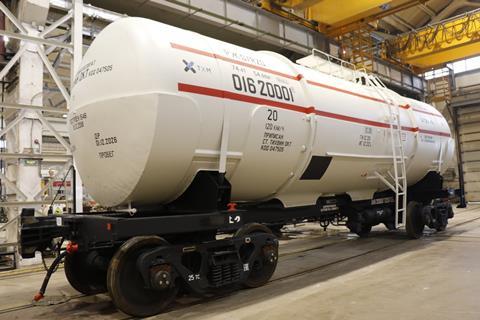 RUSSIA: Trans-Servis has awarded United Wagon Co's TikhvinSpetsMash plant a contract to supply a batch of 15-6900-04 tank wagons designed for transporting food products such as molasses and vegetable oils.
The wagons have 25 tonne axleload bogies and a capacty of 56 m3 or 74·4 tonnes, up to 10 tonnes more than comparable designs.
The Type 15-6900-04 features a stainless steel-lined tank. This has a bent axis to ensure maximum discharge, and an outer steam jacket for unloading viscous products at a variety of temperatures.
'Today, we can see not only railways competing for cargo with other modes of transport, but also tank cars competing with tank containers', said Trans-Servis director Vasily Maklakov when the order was announced on July 2. 'We have decided that for now, the optimal and most profitable option for us is delivering products in tank cars. When it comes to tank containers, there are issues, yet unresolved, related to the development of extensive infrastructure for their maintenance and servicing on the network.
'We believe that the emergence of new generation cars in the transportation of food items will significantly improve the segment's performance. This is our first experience of co-operation with UWC, and we hope to see it growing further in future.'