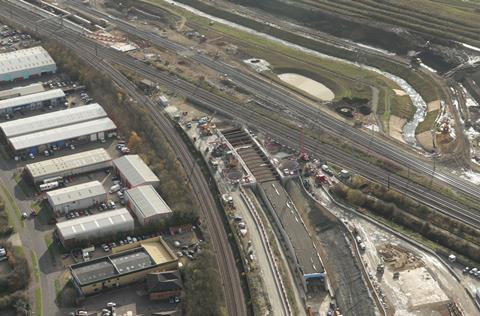 UK: Final preparations are being made ahead of a nine-day project to push an 11 000 tonne curved concrete box under the East Coast Main Line at Werrington to the north of Peterborough, in what Network Rail says is 'a first for UK engineering.'
The double-track dive-under tunnel is being built to grade separate slower east west freight traffic on the GE/GN Joint Line from fast north-south passenger trains on the main line.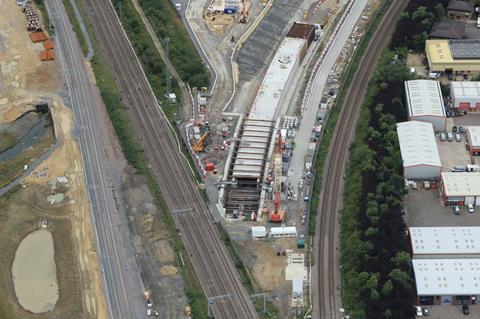 The 155 m long, 9∙5m wide, 5∙1m high and 1 m thick curved concrete box has been built alongside the ECML over the past nine months using a specialist sliding formwork system. It will be pushed into place by jacks along pre-installed guiding supports at a rate of 1 500 mm/h between January 16 and 24.
Trains will continue to run during the work, although the three tracks above the tunnel itself will be temporarily removed and so only a limited service will operate south of Grantham during the nine-day period.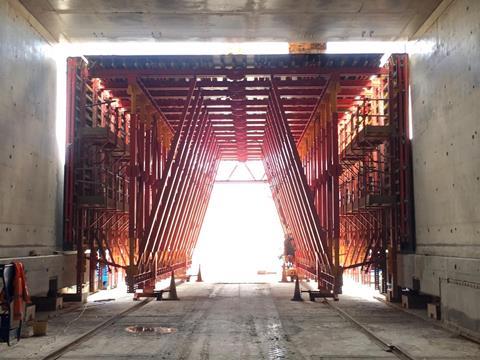 NR said using a more traditional method of installing a tunnel would have required the complete closure of the line for about a month.
'This is a massive engineering challenge, but it will avoid hundreds of hours of closure on one of the most important lines in the country', said Route Director Paul Rutter. 'This is industry-leading work that really puts the needs of passengers first in how we approach improvement work. In the past, Network Rail might have approached this problem by thinking about the easiest way to do the engineering. Instead, I'm proud to say we have come up with a creative and innovative solution that will deliver massive benefits while keeping disruption to a minimum.'
Once the tracks are installed, the dive-under lines are expected to be ready for use from late 2021.