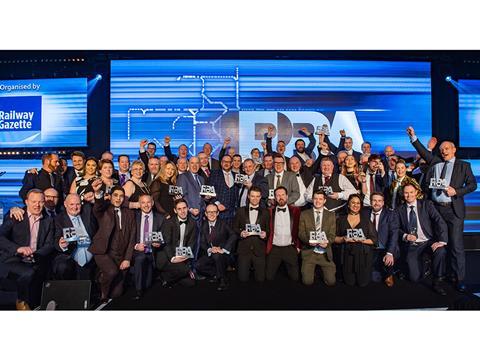 UK: Almost 700 senior representatives from across the rail sector, from operators to suppliers and consultants, packed the Hilton Park Lane Hotel in London on February 21 for the 21st Rail Business Awards.
After what had been a difficult year for the UK's railways, it was a chance to remember that the industry continues to innovate, to respond to the demands of its customers and learn the difficult lessons in order to deliver improvements.
Hosted by broadcaster Jeremy Vine, the evening reflected the continued drive to operate a safe railway led by highly skilled professionals working collaboratively, using the best advances in technology to deliver the ongoing programme of investment to create the railway of the future.
This was reflected in the award to the London Bridge Area Partnership of Network Rail, Siemens Mobility, Costain and Balfour Beatty for the London Bridge station remodelling; a task described as 'like performing open heart surgery on someone running a marathon'.
Balfour Beatty received the Sustainability & Environmental Excellence award for ensuring that significant milestones were met during the Key Output 2 stage of the £6bn Thameslink Programme.
The creation of a dedicated bulk materials terminal at the Port of Tilbury to achieve the loading of 10 trains/week resulted in the port receiving the Rail Freight & Logistics Excellence award.
The freight sector also featured in the Asset Management & Maintenance Excellence category where Davis Wagon Services was recognised for its work to adapt the former DB Cargo depot at Ferrybridge to maintain the Drax Power biomass wagon fleet, minimising the carbon footprint while increasing fleet availability.
GB Railfreight received the Digital Technology Excellence award for its work in collaboration with 3Squared to develop the RailSmart remote data download and rostering system which provides access to real-time locomotive data while taking a new approach to the rostering of train crews and ground staff.
The importance of providing a good service as well as encouraging more people to travel by rail was reflected in a series of awards led by Tyne & Wear Metro which took the award for Accessibility & Integrated Transport Excellence. This recognised the work the operator did to support a packed programme of summer events, when hundreds of additional trains generated more than 500 000 extra journeys and excellent feedback.
ScotRail's Customer Information Team received the Customer Service Excellence award for its Customer Information Transformation Project, which brought together the largest estate of networked CCTV cameras and help points within the UK at one location in Paisley. This enables ScotRail to minimise anti-social behaviour, prevent suicide and provide better customer information during disruption.
Great Western Railway's decision to use Enid Blyton's characters as the basis of the Famous Five Go on a GWR Adventure campaign saw the company presented with the award for Marketing & Communications Excellence. The initial campaign brought a significant return on investment and subsequent waves showed even greater success.
Along with Network Rail, GWR also received the Rail Team of the Year award for the establishment of a 'track and train' alliance focused on delivering the ongoing investment programme, improving the customer experience and reducing industry costs.
Greater Anglia won in the Rolling Stock Excellence category for its project to fit Class 156 DMUs with wheel slip protection, a national first which delivered a significant reduction in cancellations, better punctuality and reduced short formations through the difficult autumn low-adhesion season.
AB Hoses & Fittings took the award in the Technical Innovation Excellence category for its project to create a new automatic sanding system for the Bombardier Class 221 fleet, which was developed and delivered in just 16 weeks.
The Safety & Security Excellence category saw RSS Infrastructure being recognised for its work to develop bespoke technology for increased safety and productivity. These include systems to monitor fatigue and road vehicle driver performance and to ensure safe practices such as alerting track workers to approaching trains, enabling close calls to be reported and safety concerns raised.
In the Supplier & Contractor Excellence category Camlin's Pantobot 3D was recognised for its ability to offer analyse of damage to a pantograph on every axis with high precision. It is able to recognise and monitor a variety of different pantographs operating on the same network and record wear and tear in order to anticipate any issues that may arise in future, as well as providing instant alerts for damaged equipment.
Work to prepare the next generation of rail industry leaders was recognised when the National College for High Speed Rail was presented with the Education & Training Excellence award.
Four people were recognised for their individual contributions to the rail industry, with Director of SNC-Lavalin Atkins Transport Consulting & Advisory Marianne Kilpatrick receiving the Women In Rail award for her work across a range of sectors in a number of leading roles. Director of Rail, Transport Scotland, Bill Reeve received the Industry Leader of the Year award for his key role in driving Transport Scotland's continuing support for railway development which has provided a stable climate for investment initiatives such as the Borders Railway, Edinburgh – Glasgow Improvement Project and a number electrification schemes.
Stephen Head of South Western Railway was named Young Professional of the Year, with the judges recognising his willingness to go 'above and beyond' whilst demonstrating an eagle-eyed attention to detail, a calm approach in high pressure situations and an approachability to employees at every level of SWR.
Finally, another SWR employee, 80-year old Don Buckley, was presented with the Lifetime Achievement award for his 65 years' service at London Waterloo. He joined the station team in 1953 when he was just 14, and spends his three shifts per week at helping visually impaired and disabled people and providing his unmatched knowledge of the station to passengers needing directions or assistance. With no plans to retire Don says 'Waterloo's a part of my life and I'm happy'.
KeolisAmey Docklands was recognised as Train Operator of the Year for its management of London's Docklands Light Railway. Despite the challenge of carrying over 130 million passengers in 2017-18 it delivered 46 days of 100% performance in the year with 99·09% of departures on time.
Finally, Siemens Mobility UK was named as Rail Business of the Year after a strong showing across several categories, including a 'highly commended' for its North Wales resignalling project. Most significantly, Siemens played a key role in the Thameslink Programme, with its world-first implementation of ATO over ETCS and the commissioning of the Class 700 train fleet. Siemens has also delivered most of the Class 717s for Great Northern and been awarded the London Underground deep tube fleet renewal contract.