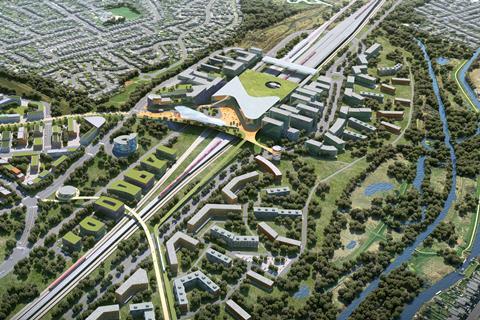 UK: A £2·7bn vision to provide fast and frequent rail, tram, bus and road connections to the future HS2 East Midlands Hub station at Toton has been published by a partnership of councils, transport bodies and East Midlands Airport.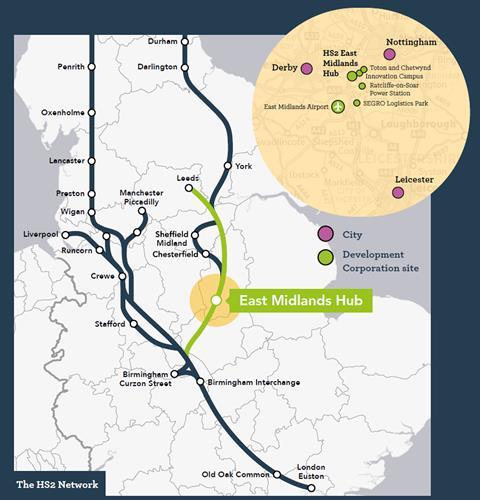 More than 20 villages, towns and cities across the East Midlands would have direct access to the HS2 station, including Leicester, Nottingham, Derby, Newark, Matlock, Mansfield and Long Eaton.
The business case for the proposals was funded by local partners and submitted to the Department for Transport in earlier this year. The findings will submitted as evidence to the National Infrastructure Commission's Rail Needs Assessment, which will inform the government's High Speed North Integrated Rail Plan to maximise the benefits of HS2 Phase 2b.
The vision is split into three phases, with the first earmarked for completion by 2030 in order to stimulate development before HS2 trains reach the East Midlands.
Phase Two could be up and running within 20 years, and Phase Three within 25 years.
The partnership is seeking an initial £4·5m from government to allow the first phase to be brought forward to the next stage of development, including the production of detailed project designs and costings.
Phase
Scheme
Description
Estimated Cost*, £m
Phase One
1
NET tram extension: Toton Lane – East Midlands Hub – Innovation Campus – Long Eaton
115
2
New bus services: East Midlands Hub to Amber Valley, West Bridgford and Clifton
5
3
Bus Rapid Transit: East Midlands Hub – Pride Park – Derby railway station – Infinity Park – Derby city centre
85
4
Local highway access to East Midlands Hub: upgrade of A6005
15
5
Motorway junction upgrade: improvements to M1 J25
TBC+
6
Rail connectivity to East Midlands Hub (Trowell Curve)++: four services per hour from East Midlands Hub to Leicester, Nottingham and Derby, made possible by the building of the Trowell Curve
150
7
Rail connectivity to East Midlands Hub: new rail service to East Midlands Hub from Mansfield, Ilkeston and Langley Mill, enabled by reopening the Maid Marian Line to passenger traffic
85
Phase One total cost
455
Phase Two
8
NET tram extension: East Midlands Hub – Derby
375
9
New railway station at East Midlands Airport: connected to Midland Mainline serving from Derby Nottingham, Leicester and Mansfield as well as some intermediate HS2 East Midlands Hub and East Midlands Parkwaystations including
820
Phase Two total cost
1 200
Phase Three
10
New rail line from East Midlands Airport to Derby: via the South Derby Growth Zone and Rolls Royce site
620
11
NET tram extension: Long Eaton – Housing Development Sites – Ratcliffe Power Station – East Midlands Gateway
430
Phase Three total cost
1 050
Overall cost
2 700
*Estimated costs have been calculated using 2018 prices, including the addition of a 66% 'optimism bias' designed to cover rising costs and additional construction risk over the lifetime of the project. These costs will be further refined as the project moves into its next stages of development.
+Highways England to work with Midlands Connect and other partners to bring forward these improvements.
++Scheme being brought forward by Midlands Connect as part of its Midlands Engine Rail proposals.
'The improvements span traditional rail, light railway, bus, rapid transit, conventional bus and route enhancements, and are all designed to deliver benefits to local people sooner', said Sir John Peace, Chairman of Midlands Connect and Midlands Engine, during a virtual event to launch the plan on May 28.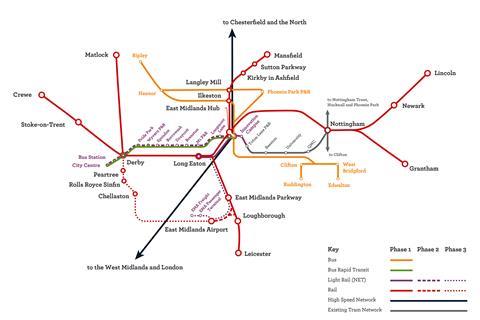 'It's not all about passengers', added Peace. 'The UK's five busiest freight paths run through the Midlands and this plan creates more capacity on our rail network. A successful future economy relies on moving more freight by rail. Frankly the East Midlands needs and deserves a reliable, regular and environmentally friendly transport network. Investing in infrastructure such as this is essential if we're to meet our climate targets and reduce carbon emissions.'
Director of Policy & Infrastructure for East Midlands Councils and senior policy advisor to Midlands Connect Andrew Pritchard said the three phase approach has a business case of 'four to one, which means that actually, for every pound invested, that we get four pounds back in terms of economic benefits, and those are just the narrow transport user benefits. We haven't looked at wider economic benefits like land value, uplift, or issues to do with job growth.'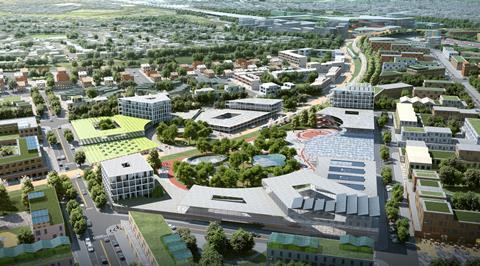 Asked by Rail Business UK about the possibility public transport usage changing significantly after Covid-19, with more home working and different work patterns, director of sub-national transport body Midlands Connect Maria Machancoses said the plan was 'embracing a much wider and that broader agenda' and 'people ultimately will still want to make informed decisions about how they want to connect with each other and with other towns and cities, how they want to access leisure and jobs, but they will want to do it in a sustainable way.'
Climate change 'will still be a top priority', Machancoses said, and 'we are after all humans and we do like to still socialise and meet and do business with each other.'
Pritchard added that 'many people can't work from home and there are lots of things we can only do when we are working more closely together. We also hope and expect the economy will continue to grow after the pandemic; we will have more jobs and more people in work and therefore we need to have a transport system with more capacity and this is what this plan gives us.'