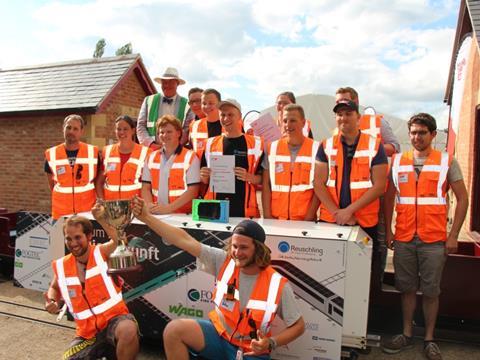 UK: A team of students from Aachen University of Applied Science was named champion of the eighth Railway Challenge organised by the Institution of Mechanical Engineers, after successfully completing a series of on-track challenges at the Stapleford Miniature Railway on June 29-30.
Open to students, apprentices and trainees from academic institutions, railway operators and suppliers, the annual competition is intended to attract young people into railway engineering and encourage their development, embracing awards for design, innovation and business case presentations, as well as the construction of 261 mm gauge locomotives for mechanical and dynamic testing. Co-ordinated by the institution's Railway Division and senior railway professionals, the event is supported by industry sponsors such as railway safety board RSSB and Young Rail Professionals, as well as leasing companies Angel Trains and Beacon.
Although hosted in the UK, the Railway Challenge has become increasingly international, with three overseas entries among this year's 14 contestants. Of the 10 teams which reached the track tests, the Emma-loves-Jim team of FH Aachen and Reuschling successfully completed all of the challenges, while new entrant Poznań University of Technology won a special award for its innovative lightweight design with composite bogies and carbon fibre suspensions.
As well as established tests for ride quality, energy recovery, noise and traction, this year's contest introduced a new 'auto stop challenge', in which the locomotives had to be brought to a stand automatically exactly 25 m after detecting some form of lineside trigger or balise.
Last year's winner Ricardo Rail managed third place in the 2019 contest, being narrowly beaten by a team from Transport for London. This year also saw a first entry from Network Rail, which teamed up with past winner University of Birmingham. Other teams participating in the track tests included the universities of Huddersfield and Sheffield, Brunel University, Bombardier with the University of Derby, and SNC Lavalin/Atkins.