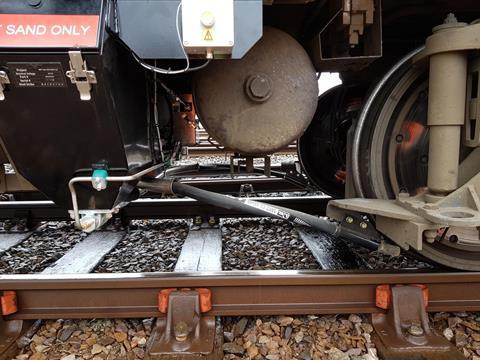 SANDER: Unipart Rail has been appointed exclusive worldwide distributor of AB Hoses & Fittings Ltd's Advanced Automatic Sander, a variable-rate sanding system which won the Technical Innovation Excellence category at Railway Gazette Group's 21st Rail Business Awards.
AAS meets the recommendations of RSSB's T1107 research project which tested the relationship between sanding rate and deceleration in low adhesion conditions in single and multiple axle sanding configurations.
AAS has a configurable computer-controlled pneumatic system which operates when a train's wheel slide protection system senses a loss of adhesion. It delivers sand to the wheel/rail interface at up to 4 kg/min, with a variable rate dependent on the vehicle speed and the amount of braking effort requested.
Real-time monitoring informs the driver and maintenance systems of the sand level, with AAS changing its operation when reduced amounts are available. GPS and data logging support real-time mapping of low adhesion hot-spots.
AB Hoses said distributed and variable rate sanders improve braking significantly compared with fixed rate equivalents, and implementation could reduce incidents of signals passed at danger owing to low adhesion by 98% and low adhesion station overruns by 96%.
The company worked with West Midlands Trains, Ricardo Rail, DB ESG and condition monitoring specialist Instrumentel to test AAS on two Class 323 EMU cars during last year's leaf-fall season.
'I'm delighted to say the results were overwhelmingly positive, the drivers loved it, and it is clear that double variable rate sanding is the future and has the potential, in the words of a TOC Operations Director, to be a game changer', said the manufacturer's Commercial Director David Whiteside. 'As the only UK-owned and based sander system manufacturer we have, in RSSB's opinion, raised the industry's expectations on what sanding systems should be capable of. Working with Unipart Rail is a natural extension to our technological innovation to accelerate the distribution and adoption of AAS.'
Kelly Warburton, Unipart Rail's Managing Director, UK Rail Commercial, added that 'we are always keen to work with existing suppliers and new partners to support innovation and the commercialisation of technologies that will benefit our customers. Through joining our market reach and customer relationships with AB Hoses' innovation, we are set to deliver a massive improvement in timetable accuracy and lower costs to our customers.'