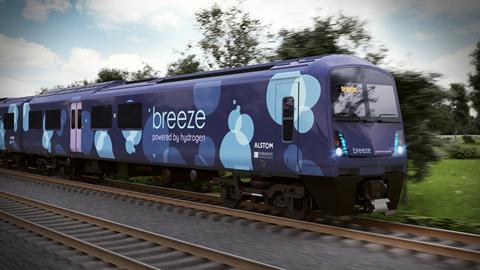 UK: Alstom and leasing company Eversholt Rail are to invest a further £1m to 'fast track' development of the Breeze hydrogen multiple-unit concept, and envisage that the first production trains could be in service in 2024.
The Breeze concept involves fitting fuel cells to surplus Eversholt-owned Class 321 EMUs, which would enable them to replace diesel multiple-units on non-electrified regional routes.
Alstom said the resulting units would be designated Class 600, the first class in the 6xx number series which is to be used for vehicles using hydrogen and other alternative forms of traction.
The rebuilding work would be undertaken at Alstom's Widnes site.
'Breeze is good to go, wherever the government commits to upgrading Britain's railway with hydrogen trains', said Nick Crossfield, Alstom's Managing Director, UK & Ireland, on July 22.