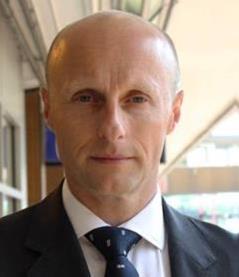 UK: The former President & Chief Executive Officer of New York City Transit Authority Andy Byford is to return to the UK as the next Commissioner of Transport for London, Mayor of London Sadiq Khan announced on May 27.
Selected through an international recruitment process, Byford is due to join TfL on June 29, succeeding Mike Brown as Commissioner with effect from July 10. Brown is to take up a new role overseeing the renovation of the Houses of Parliament, but had agreed to stay on pending the appointment of a successor.
According to Khan, Byford brings 'a track record of leadership and transformation within major urban transport authorities and has worked within a wide range of complex stakeholder and political environments' across three continents in his 30-year career.
Having joined London Underground as a graduate trainee, Byford rose to become General Manager, Customer Service, for the Bakerloo, Central and Victoria lines before moving in 2003 to the capital's suburban railways as Director of Operations for South Eastern and later Southern. He then moved to Australia as Chief Operating Officer & Deputy CEO of the former RailCorp in New South Wales.
After six years as Chief Executive Officer at Toronto Transit Commission, Byford was named President & CEO at New York City Transit in January 2018, but announced his resignation from that role on January 23, highlighting the planned restructuring of the Metropolitan Transportation Authority as a factor in his departure.
'I'm delighted to confirm Andy Byford as London's new Transport Commissioner', said Khan. 'Covid-19 has had a profound impact on public transport in London but Andy brings with him a wealth of experience and expertise to lead TfL as it faces this unprecedented challenge. I look forward to working with him as we build a greener city with clean and environmentally-friendly travel, including walking and cycling, at the heart of its recovery.'
Andy Byford said he was 'delighted to be taking up the role of Commissioner and to lead the organisation where I started my career over 30 years ago. In the wake of the Covid-19 pandemic, all transport authorities around the world will need to reimagine how their services and projects contribute to the safe and sustainable re-start of the social and economic lives of the cities they serve. It is a huge challenge.'
Congratulating Byford on his appointment, Railway Industry Association Chief Executive Darren Caplan said it was 'a pivotal moment for TfL and London's rail network'. He urged the new Commissioner 'to engage early with RIA members and the rail industry, who will be vital in London and the UK's economic recovery, delivering rail investment plans going forward. We need strong engagement between TfL and the industry to deliver world-class rail both now and in the years to come.'
Pointing out that 'the new Commissioner will arrive with TfL facing a financial crisis in the wake of the Covid-19 pandemic that is being ruthlessly exploited by the Tory government for political purposes', RMT General Secretary Mick Cash warned that the union would fight 'any attempt to hit the transport workforce with cuts to jobs and conditions … with every weapon at our disposal'.