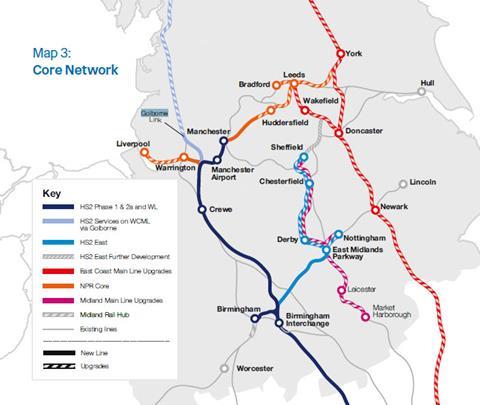 UK: The government confirmed on June 6 its intention to drop the so-called Golborne Link from Phase 2b of High Speed 2.
The 18 km spur would have connected HS2 tracks north of Crewe to a junction with the West Coast Main Line near Golborne, north of Warrington. However, last year's Union Connectivity Review into transport links between the four nations of the UK prepared by Network Rail Chairman Sir Peter Hendy had indicated that the current proposals would not address all of the WCML capacity constraints between Crewe and Preston, and that other options should be explored.
The government has now said that the Golborne Link would be removed from the from the High Speed Rail (Crewe – Manchester) Bill after its second reading, which is expected shortly. The Department for Transport says it will explore 'alternatives that deliver similar benefits, within the £96bn envelope of the Integrated Rail Plan, ranging from upgrading existing infrastructure to brand new high speed links'.
Nevertheless, removal of the spur risks reducing the journey time savings on Anglo-Scottish journeys resulting from HS2.
Following the cancellation last November of the Phase 2b Eastern Leg between Birmingham and York, the WCML had been expected to become the primary route for London – Edinburgh inter-city passenger services, as well as those linking Glasgow with Birmingham and London.
'HS2 is a once-in-a-lifetime project that will transform travel across the entire UK and serve millions of people for hundreds of years to come and it's absolutely vital that we get this right from the outset', said Minister for HS2 Andrew Stephenson. 'Removing this link is about ensuring that we've left no stone unturned when it comes to working with our Scottish counterparts to find a solution that will best serve the great people of Scotland.'
Websites
We are not responsible for the content of external sites