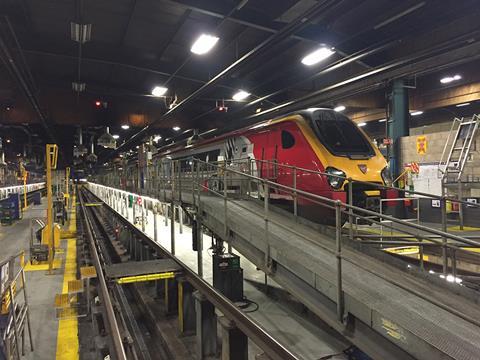 UK: Avanti West Coast has awarded Bombardier Transportation a £117m three-year contract to 'refresh' and continue to maintain its 20 Class 221 Super Voyager diesel-electric multiple-units until December 11 2022.
Under the train services agreement, maintenance will continue to be undertaken at Bombardier's Central Rivers depot, with heavy component maintenance in Crewe
The comprehensive interior refresh to be undertaken at Bombardier's Ilford site will include the installation of upgraded wi-fi equipment.
'This important contract win is a reflection of our excellent relationships with both FirstGroup and Trenitalia, our leading position in the UK services market, and to the hard work and commitment of our Central Rivers team', said Matt Byrne, President, UK, Bombardier Transportation, on December 12.