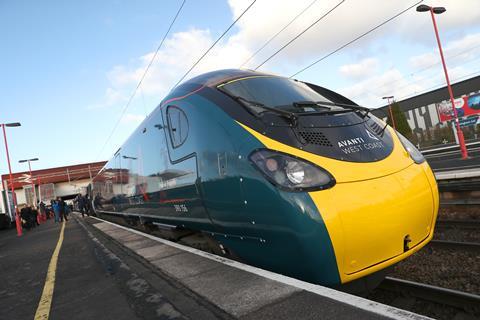 UK: Operator Avanti West Coast and leasing company Angel Trains have awarded Alstom a £642m, seven-year contract to overhaul and maintain the 56 Class 390 Pendolino tilting trainsets which entered service on the West Coast Main Line from 2003.
Alstom said the £127m refurbishment element of the contract announced on January 8 was believed to be 'the biggest train upgrade programme ever undertaken in the UK'.
The work will focus on passenger facilities, with the provision of more comfortable seats, upgraded wi-fi, at-seat charging points, revamped toilets, better lighting and improvements to the shop. A revised maintenance programme will aim to improve performance.
Alstom said the contract would create 100 skilled roles, mostly based at its Transport & Technology Centre in Widnes, with existing jobs secured at depots in Glasgow, Liverpool, Manchester, Oxley and Wembley.
'The Pendolino is an iconic passenger train and we're delighted to be giving it a new lease of life', said Avanti West Coast Managing Director Phil Whittingham. 'This deal will improve the experience of passengers and ensure the fleet can continue to serve communities up and down the west coast route in the years ahead.'
CFO of Angel Trains Alan Lowe said the 'transformative project will ensure that Pendolino trains reflect the evolving needs of today's passengers'.