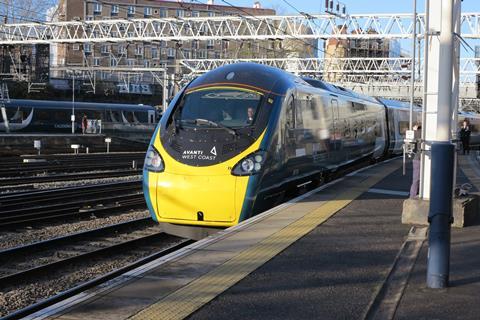 UK: A reliveried Alstom Class 390 Pendolino was named 'Pride and Prosperity' at London Euston station on December 9, to mark the start of the Avanti West Coast franchise the previous day.
Trenitalia CEO Orazio Ianoco and First Rail Managing Director Steve Montgomery marked the launch of the new InterCity West Coast franchise at an event attended by Italy's Ambassador to the UK Raffaele Tombetta and FirstGroup CEO Matthew Gregory.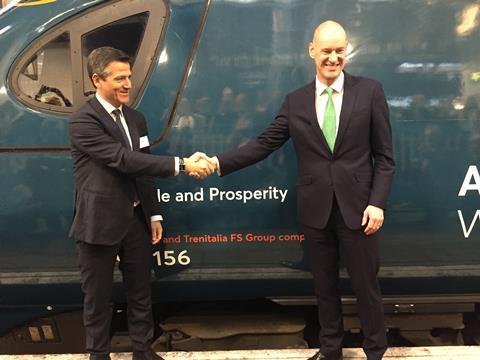 Economic artery
Emphasising that the West Coast Main Line was 'an economic artery bringing people and places together', Montgomery said the First Trenitalia joint venture would be looking to build on the accomplishments of Virgin Trains, which had operated ICWC for more than 22 years. More than 3 500 staff would transfer to the new operator, including Managing Director Phil Whittingham, who predicted that the change of operator would be a 'launchpad' for 'even greater things — we want to exceed expectations and make extraordinary the new standard'.
Under the West Coast Partnership, the joint venture will also be working with the Department for Transport, HS2 Ltd and Network Rail to shape the UK's future rail operations through its subsidiary West Coast Partnership Developments, which will act as shadow operator for the planned high speed line.
Gregory described the start of the AWC franchise as 'a great moment for FirstGroup', as it had now become the UK's 'biggest rail operator' with four franchises and its open access subsidiary Hull Trains.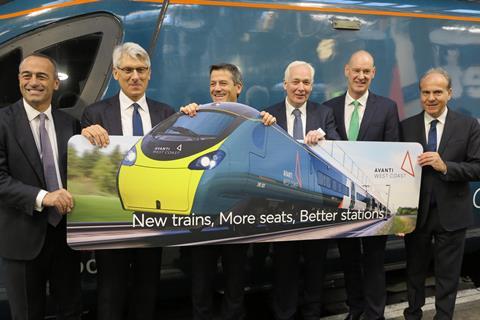 More sustainable
Noting that FS Group had recently marked 20 years of high speed operation in Italy, and been awarded paths to run high speed trains in Spain, Iacono said Trenitalia was keen to bring its experience to the UK.
Responding to the ambassador's comment that 'greener transport must be a cornerstone of a more sustainable planet', Iacono pointed out that Avanti West Coast's order for Hitachi Class 801 electric and Class 802 electro-diesel trainsets to replace Voyager DEMUs would reduce the franchise's CO2 emissions by an estimated 62%. The new operator has also committed to refurbishing the 56-strong Pendolino fleet with 25 000 new seats, more reliable wi-fi and power sockets for all passengers.
Whole-railway collaboration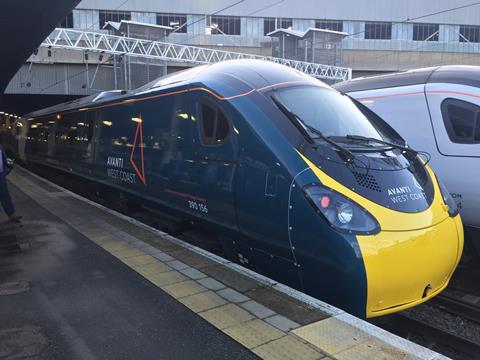 Welcoming the new franchisee, the Managing Director of Network Rail's North West & Central Region, Tim Shoveller, said 'whole-railway collaboration' was needed to operate' a 'very busy railway', where passenger numbers are predicted to increase by 18% over the next four years.
He told Rail Business UK that his region, accounting for 24% of the NR network, expected to spend £3bn on renewals and £2bn on enhancements during the current control period running to March 31 2024, as well as £800m a year for operations and maintenance.