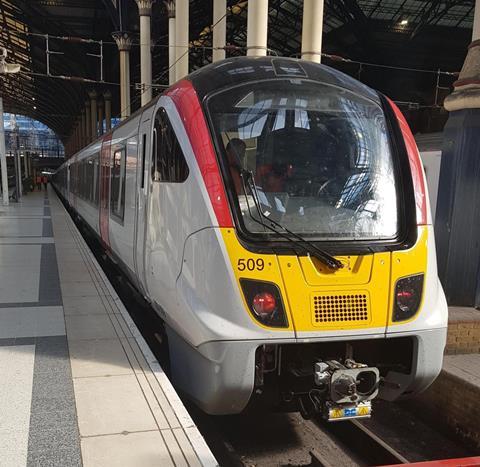 UK: The first of the Class 720 Aventra EMUs which Bombardier Transportation is supplying for Greater Anglia's commuter services has completed its first test run into London Liverpool Street station.
As part of the testing programme, the EMU is expected to run over all of Greater Anglia's electrified network, traversing each line at least twice in different conditions.
The unit has already been tested on the West Anglia line from London to Cambridge and King's Lynn, as well as the main line to Norwich although the Class 720s are not expected to run that far in regular service.
'We are continuing with our new trains programme during the coronavirus outbreak, because we still need to replace all of our old trains', explained Greater Anglia's Franchise & Programmes Director Ian McConnell on March 30. 'We are very grateful to the drivers, engineers, technicians, depot staff, control staff, the project team and our colleagues in other railway organisations who are coming to work everyday in these worrying times to carry out this important work. We are following all government guidelines to keep them safe.'