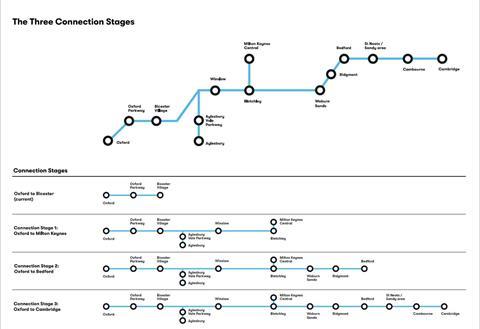 UK: Protect promoter East West Railway Co has revised the phasing of the project to develop a railway corridor between Oxford and Cambridge, saying this will now be delivered in three 'connection stages' planned on the basis of 'a full journey, not just the building of infrastructure'.
EWR Co said its 'joined-up approach' was based on 'properly integrating the whole railway all the way from planning to operations, which will ensure best value for the taxpayer', and would minimise disruption for local communities, increase the reliability of future services by considering timetables and how connections with other parts of the rail network impact on journeys.
Connection Stage 1: Oxford – Milton Keynes
The announcement on January 25 came two days after the government confirmed the £760m allocated in the November 2020 Spending Review to fund infrastructure works on the section between Bicester and Bletchley.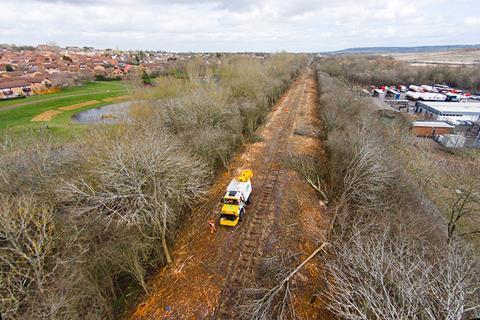 All funding is now in place for this section, and EWR Co aims to have trains running between Oxford, Bletchley and Milton Keynes by 2025.
However, it said it was working with Network Rail and the Department for Transport to demonstrate that this service would be 'reliable from day one', and 'in the worst case' it may introduce an Oxford – Bletchley service first and then extend this to Milton Keynes 'once we have proved it will run on time'.
The initial EWR programme included a link between the main east–west corridor and Aylesbury, but the project promoter has looked again at this idea, noting that the original proposals 'would not have provided local communities with a reliable service'. This section requires more investment than originally planned and 'there is further work to do to demonstrate to government that this connection represents the best value for money', EWR Co explained.
EWR Co, DfT and Network Rail are continuing to 'explore options' for the Aylesbury connection. Councillor Sue Clark, Chair of the East West Rail Consortium of local authority stakeholders, said 'we will continue to press the government for an early decision on the investment'.
Connection Stage 2: Oxford – Bedford
Connection Stage 2  would provide two trains/h from Oxford to Bedford, and requires modernisation of the existing Bletchley – Bedford line as well as Bedford station.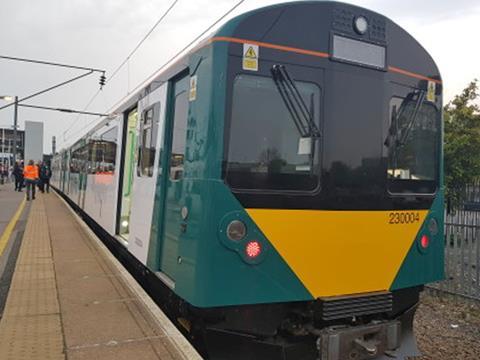 Consent has previously been granted for some works, but EWR Co said these would not be sufficient to run a reliable two trains/h service, and the full Oxford – Cambridge service would 'require significantly more investment than envisaged by Network Rail', including remodelling Bedford station.
EWR Co plans to forward proposals for consultation in early 2021, and submit a bid for government funding for this section in the 2021 Spending Review.
Connection Stage 3: Oxford – Cambridge
The final connection stage would complete the full corridor between Oxford and Cambridge.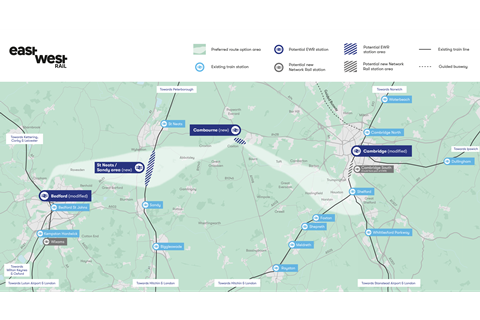 This will involve greenfield construction, and EWR Co is currently identifying potential alignments on the preferred corridor. It aims to consult on proposals in early 2021, and 'unlock' funding in the 2021 Spending Review.
This section could be completed towards the end of the decade.