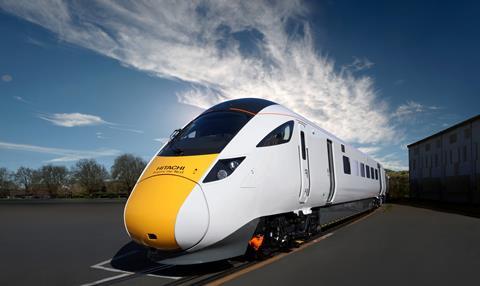 UK: Hitachi Rail is working with Turntide Technologies to design and manufacture traction battery systems for trial installation on an inter-city trainset.
Turntide said installing traction batteries to make a Hitachi electro-diesel trainset into a tri-mode unit could cut fuel usage and reduce carbon emissions by at least 20%, with battery power used in stations and as a 'much faster, more affordable' alternative to installing overhead lines on non-electrified routes.
'The electric car industry has already proven the battery solution', said Jim Brewin, Hitachi Rail's Chief Director UK & Ireland. 'The real challenge has been to scale this technology designed to power a 2 tonne vehicle for a 200 to 400 tonne train.
'It's not as simple as just making the battery bigger. Hitachi Rail's engineers, in collaboration with Turntide, have been working for more than a year on creating the necessary algorithms and software to achieve this upscaling.'
Turntide said the planned trials could make the UK 'a global leader in inter-city battery train technology' with the potential for mass production of battery modules at its sites in Gateshead, Sunderland and Cramlington.
'The innovation and ingenuity that Turntide brings to electrification is exemplary, and we are delighted to name the company as our preferred battery systems supplier', said Brewin. 'We also recognise the importance of building local supply chains.'