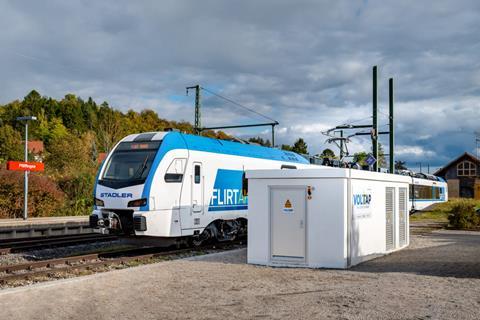 UK: The Rail Safety & Standards Board has commissioned consultancy WSP to produce evidence-based recommendations for optimising and standardising the adoption of battery-powered trains.
WSP said it would draw on its experience of battery train development in Norway and Sweden, as well as in the UK where it previously explored the potential for battery train operation for Network Rail and the Great British Railways Transition Team.
The Department for Transport has set a target of removing all diesel-only trains from the national network by 2040 and aims to achieve a net zero railway by 2050.
WSP said battery power provided an attractive and cost-efficient complement to electrification, and the work for RSSB would help GBRTT develop the best traction policy for each route.
'To date, the design and roll-out of battery trains has been undertaken on a scheme-by-scheme basis', said RSSB Lead Research Analyst Aaron Barrett on July 25. 'This has resulted in bespoke designs with manufacturers having their own approach to battery charging. While this has supported more rapid deployments, it has the potential restrict operational flexibility and rolling stock cascade options in the future.'
A level of standardisation would 'help maintain high levels of safety, lower overall costs, future-proof the roll-out of battery technology', and help to 'maximise the opportunities that battery trains can offer'.