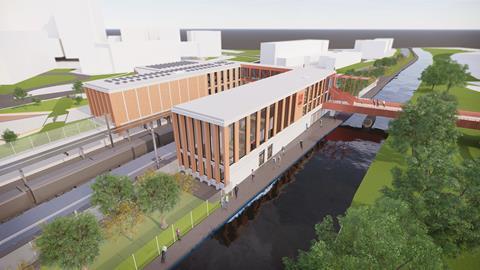 UK: The Department of Transport announced £12m of funding for the £56m project to rebuild University station in Birmingham on July 22.
It is the seventh busiest station on the West Midlands Trains network, serving the fourth largest university in the UK, nearby schools and the Queen Elizabeth Hospital which is one of the largest single-site hospitals in western Europe.
Opened on May 8 1978 as part of the Cross-City line project, the station was designed to serve 500 000 passengers/year. Annual footfall has now increased to almost 4 million people, and the station struggles to handle passenger numbers; During the morning peaks the platforms often do not clear before the arrival of the following train.
Demand is expected to rise to 7 million passengers/year following the opening of High Speed 2, and expansion of regional rail services, continuing towards 13 million over the following decade.
Rebuild
The modernisation project envisages the construction of a larger station building offering enhanced passenger facilities as well as direct access into the university campus.
Transport for West Midlands is leading a consortium to fund the scheme which includes the University of Birmingham, Birmingham City Council, Network Rail, West Midlands Trains and the Greater Birmingham & Solihull LEP.
Contracts for the detailed design and construction are to be awarded later this summer, with works starting in the autumn.
There is strict deadline for the works, as extra capacity will be needed in time for the Commonwealth Games in 2022, where the university is to serve as one of the main sports venues. The project will be fully completed following the games
The work will not be without its challenges. The station is sited on the edge of Metchley Roman fort which dates back to AD 50, and early excavation work has also revealed that it was also built over a high voltage cable which feeds the national blood transfusion centre.
University station usage
Year
Passengers, million
2012-13
2·636
2013-14
2·845
2014-15
2·977
2015-16
3·206
2016-17
3·384
2017-18
3·571
2018-19
3·970