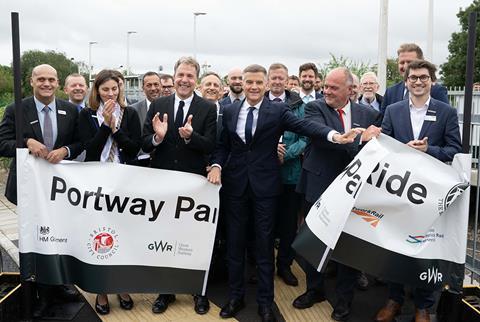 UK: Passenger services at Portway Park & Ride station near Avonmouth on the Bristol to Severn Beach line began August 1, following a formal inauguration by Transport Secretary Mark Harper, Mayor of Bristol Marvin Rees and Mayor of the West of England Combined Authority Dan Norris the previous day.
Built as part of the Combined Authority's wider MetroWest plan to enhance the local rail network, the station has a single 126 m long bidirectional platform.
It is intended to ease congestion on local roads, provide an additional transport option for the 9 000 people who work in the surrounding area, and to improve access to the Avonmouth and Temple Quarter enterprise zones.
'It will offer customers regular trains to and from Bristol Temple Meads twice an hour with a journey time of 25 min', said Joe Graham, Business Assurance & Strategy Director at operator Great Western Railway, which also opened Reading Green Park station in May and Marsh Barton station in Exeter in early July.
'Situated alongside the M5, this new station will provide a great alternative for those travelling into Bristol city centre or wanting to connect with the wider rail network.'
Mayor of Bristol Marvin Rees said 'having boosted the number of free parking spaces at our park and ride site, it offers commuters more options to park up and catch a train or the bus'.
Portway Park & Ride station funding, £m
West of England Combined Authority
3·153
Department for Transport's New Stations Fund
1·672
Bristol City Council
0·857
Network Rail
0·114
GWR
0·070
Total capital cost
5·866