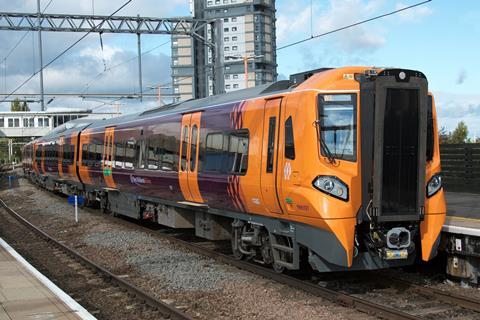 UK: The first of 26 CAF Class 196 diesel multiple-units ordered by West Midlands Trains has entered service.
The first passenger working was the slightly delayed 06.51 Shrewsbury to Birmingham New Street on October 17, worked by four-car set 196 101.
Design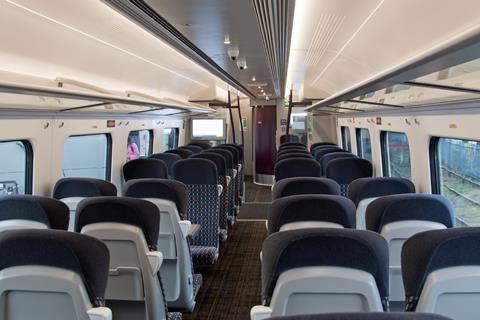 The Class 196 fleet ordered in October 2017 includes 12 two-car sets with 141 seats and 14 four-car trains with 311 seats. The cars are 24 m long and fitted with a 390 kW 13 litre six-cylinder Rolls-Royce MTU engine, providing a maximum speed of 160 km/h.
The interiors feature wi-fi, air-conditioning and at-seat power sockets.
Every seat has either a seat-back or fixed table, and the cantilever design facilitates cleaning and allows luggage to be stored underneath.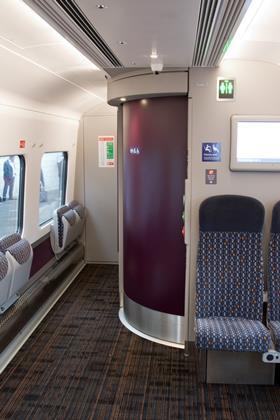 The seats have been developed by FISA and Schoenemann Design; feedback from passengers on an October 14 preview suggested that the seats were more comfortable than the Fainsa version selected by Northern for its Class 195 DMUs, which are also from CAF's Civity family.
Unlike the Class 195 units, the Class 196 features end gangways.
The order was valued at around €200m, with financing led by Infracapital and Deutsche Asset Management. Many of the trains are being assembled at CAF's factory at Newport in South Wales.
Operations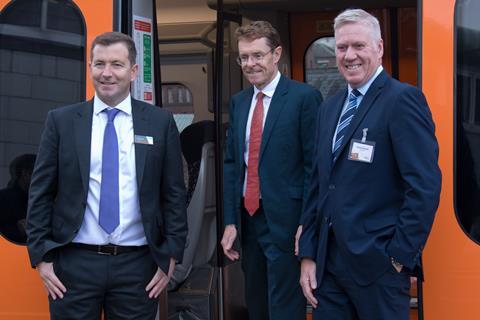 All of the two-car and 10 of the four-car sets have now been accepted into the WMT fleet. The operator plans to phase the new units into service initially on the Birmingham – Shrewsbury route, with all diagrams to be covered by the end of the year.
This will allow the Class 170 DMUs which are currently used to transfer to East Midlands Railway; many WMT Class 170s are already carrying EMR livery in preparation for the move.
Class 196s will take over Birmingham – Hereford services in early 2023 and will also be used on the Leamington Spa – Coventry – Nuneaton service. They will also operate on the future local service over Birmingham's Camp Hill line when it opens in late 2023 or early 2024.
It has also been confirmed that six two-car sets will be released to operate on the new East West Rail service between Milton Keynes and Oxford which is expected to start in late 2024 or early 2025.
Class 730 order changes
Meanwhile, WMT has confirmed changes to the order for Alstom, as successor to Bombardier Transportation, to supply Class 730 Aventra EMUs for West Coast Main Line services.
The initial order announced in October 2017 covered 36 three-car 145 km/h high capacity sets for Birmingham Cross-City inner-suburban services, and 45 five-car 175 km/h sets of two types for London – Birmingham services and outer suburban services from the two cities. This has now been reduced slightly, to total 48 three-car and 36 five-car units.
Three-car units are due to enter service out of London Euston in early 2023, enabling WMT's small fleet of Class 319 EMUs to be withdrawn. The three-car units will then transfer to the West Midlands area once the five-car variants are available for use later in the year.