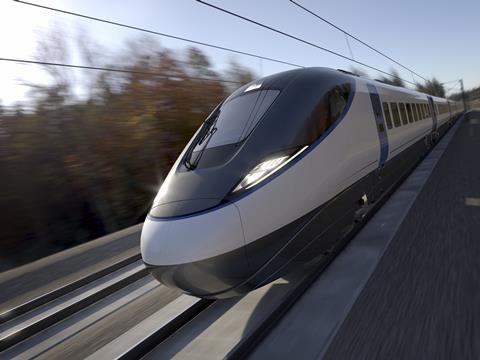 UK: Hitachi Rail says it is the first train manufacturer to attain BSI's PAS 2080 standard for carbon management in infrastructure. This follows an assessment of the full life-cycle of the 54 trainsets it is to supply for High Speed 2 through a joint venture of with Alstom.
Hitachi Rail said the process would provide a blueprint for use on other rolling stock projects around the world.
The analysis for the HS2 fleet concluded that CO2 emissions per passenger would be 90% lower than making the same journey in a car containing three people or on a fully-loaded aircraft; emission savings will further improve as electricity supplies are decarbonised.
Factors in achieving PAS 2080 include revising the train designs with:
aerodynamic improvements to the carbody and bogies;
improvements to the efficiency of power supplies and air-conditioning;
reducing the weight of car bodies, internal and external cabling and bogies and wheelsets;
increasing the proportion of recycled and recyclable materials.
'HS2 trains have gone through a design process of unparalleled rigour — becoming more aerodynamic, more energy efficient, lighter, leaner and greener', said Hitachi Rail Group Chief Operating Officer Luca D'Aquila on September 5.
'The PAS 2080 accreditation is recognition of our dedicated approach, and it is an approach that we will continue to roll out on projects around the world as part of our commitment to be a climate change innovator.'