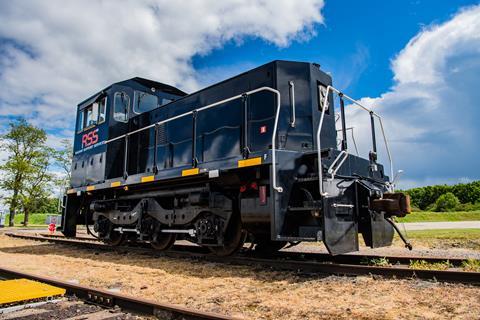 UK: Railway Support Services has imported a Canadian-built diesel locomotive to demonstrate its plans to produce a replacement for the venerable Class 08 design for main line and industrial shunting and short-distance freight operations.
The imported TP70 FWDX2 was produced by Tractive Power in North Vancouver and has been demonstrated in the North American market over the past four years.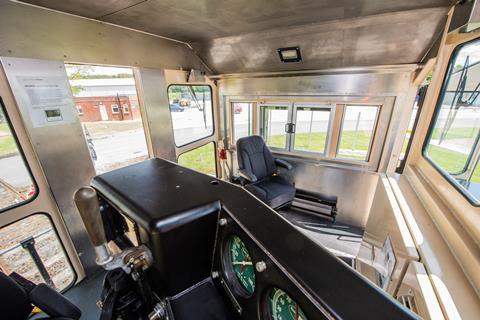 Tractive Power's focus is on the Canadian and US markets, and Rail Support Services has partnered with the company to act as its global agent. Over the past three years the companies have developed plans to adapt the TP70 design to meet UK requirements including the much more restricted loading gauge, and RSS is now ready to begin production of the resulting TP60 design in the UK.
RSS has a fleet of 60 Class 08s which it is looking to begin replacing, and Managing Director Andrew Goodman told Rail Business UK that he sees a market for at least 20 to 30 TP60s in the UK. He also foresees opportunities for exports, saying 'I'm confident it will be a winner'.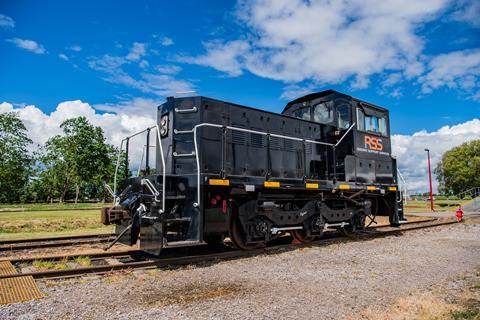 The three-axle locos would be based on a refurbished EMD SD40 locomotive bogie, which despite being from the North American market is within the British loading gauge.
Mounted on this would be a Cummins, Caterpillar or Deutz Euro 6 diesel engine able to use low-sulphur HVO fuel. Discussions have potential users have established that diesel is still the most suitable option for shunting applications, but the design will enable the engine to be replaced with a hydrogen, ethanol, LPG, hybrid or battery-electric power unit as alternative technologies advance.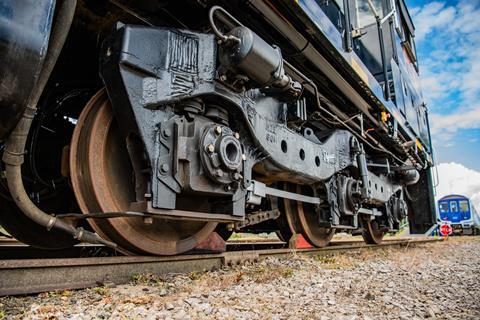 The TP60 would be capable of moving up to 3 000 tonnes, double the capability of a Class 08, up to a maximum speed of 40 km/h.
'Compared with the 08, the locomotive is exceptionally economical with the potential to significantly reduce operating costs', said Goodman.
'Under average working conditions, the Euro 6 diesel-powered engine will burn 34 litres/h compared with the Class 08's 437 litres, an astonishing 92% saving with consequent environmental benefit.
'It's also extremely easy to maintain which further reduces downtime costs. In addition it provides a high standard of crew safety and comfort with superb all-round visibility.'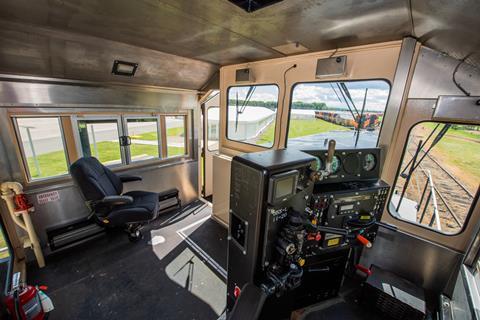 The imported TP90 locomotive is to be shown to potential TP60 users at the Rail Live event at the Long Marston Rail Innovation Centre on June 22-23.
'Although the locomotive exhibited is of North American origin, the UK-assembled version of the TP60 will meet domestic market requirements and we are keen to hear the views of potential users', said Goodman.
'The Class 08 is a design that has not changed much since the 1930s and suffers relatively high maintenance downtime as well as high fuel consumption. Whilst the class is robust with great longevity, it cannot be adapted to meet modern emission standards. The TP60 is a logical replacement.'