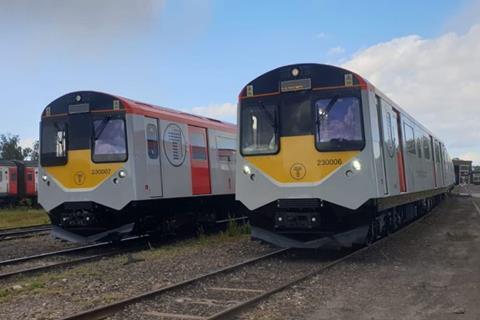 UK: The Office of Rail & Road has given authorisation for battery and diesel-battery versions of Vivarail's Class 230 D-Train multiple-units to be used in passenger service.
Battery set
No 230 002 is a demonstrator trainset powered only by batteries which was completed in 2018 and is designed for use on partially-electrified routes. Its four 106 kWh battery rafts enable an operational range of 60 km with Vivarail stating that they require as little as 8 min to recharge after each journey.
As well as using a lower power automatic charging point connected to the national grid, the manufacturer says that the powerpacks could be charged via the use of a static battery bank; this would require extremely high currents and the design of a safe connector capable of handling such high demands is underway.
Battery-diesel sets
Trains 230 006 – 008 are the first three of five battery-diesel Class 230s which are to be introduced by TfW Rail. It is expected to be some time before the fleet enters passenger service, as the final two trains are still to be completed and further testing and then driver training will be required.
The three-car sets are have a pair of 100 kWh lithium-ion batteries in each driving vehicle, with diesel gensets located in the centre car which will be used to recharge the batteries while the train is in service.
The batteries allow the units to accelerate at the same rate as other types of electric train. As well as acting as the charge mechanism for the batteries, the gensets can be used as a secondary source of traction power. Regenerative braking energy is also used to top up the batteries during a journey.
The gensets are 'eco-fenced', and will switch off to reduce noise at stations or in designated built-up areas.
The TfW Rail D-Trains feature restyled front ends. They are the first Class 230s to have open gangways, and have a higher specification interiors than previous batches.
At the launch of the TfW Rail operating contract, it was stated that the trains would be introduced on the Wrexham – Bidston, Conwy Valley and Crewe – Chester lines during 2019, but technical development and testing took longer than anticipated. It has also now been decided to restrict sets to the Wrexham – Bidston Borderlands line.
Looking to the future, Vivarail says that the time taken from receiving an order to delivering a train can be as little as 12 months. It is also looking to sell completed trains as a manufacturer, rather than becoming involved in leasing them to operators.