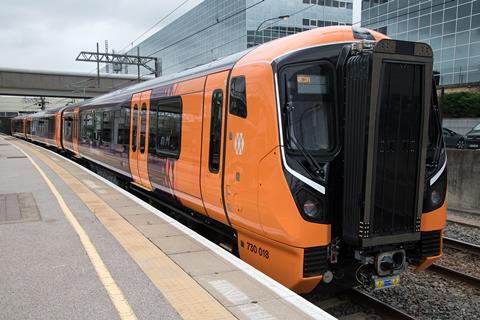 UK: West Midlands Trains has put its first Alstom Class 730 Aventra electric multiple-units into service on London Northwestern Railway-branded services on the West Coast Main Line.
The first passenger service was the 06.04 from Bletchley to London Euston on November 13. Class 730s will initially operate six passenger services every weekday, gradually increasing in the coming weeks as more units are brought into service.
The 25 kV 50 Hz EMUs were ordered from Bombardier Transportation in October 2017 before its purchase by Alstom. Financing was led by Infracapital and Deutsche Asset Management.
The EMUs are being supplied from Alstom's Derby factory, and were originally due to begin carrying passengers from the May 2020 timetable change. The manufacturer has said delays were caused by the high volume of trains the factory has produced in the past few years, as well as rectification works being undertaken on newly-built vehicles which in turn delayed the completion of new rolling stock; Alstom paused all new build work for a period in 2022 to ensure the quality of finished products could be improved.
Driver training was also impacted by the industrial dispute with ASLEF.
Two sub-classes
West Midlands Trains originally ordered three sub-fleets of Class 730s for its LNR and West Midlands Railway business units. This was to include a mix of three- and five-car trains, with a high-density arrangement for commuter services and a medium-distance layout with 2+2 seating and a first-class area.
Following an evaluation of post-pandemic travel patterns, the order was simplified to comprise 48 Class 730/0 three-car EMUs for 145 km/h operation with high-density 2+2 seating in a single class and WMR branding, and 36 five-car Class 730/1 EMUs for 175 km/h LNR services with a medium-distance interior offering 2+2 seating for 406 passengers including first class and less standing room.
The first trains in service are from the three-car Class 730/0 sub-class, which will typically operate in pairs. They have been introduced on West Coast Main Line services as a temporary measure until five-car Class 730/2s come into traffic next year. The Class 730/0s will then be used on routes in the West Midlands, starting with services between Walsall and Wolverhampton early next year, followed by the Cross City Line through Birmingham.
The introduction of the Class 730s on the WCML will allow the withdrawal of LNR's five remaining Class 319 EMUs by the end of 2023. The introduction of Class 730s on the Cross City Line next year will allow the Class 323 EMUs currently in use to be cascaded to Northern Trains.
The operator said 'due to their spacious interiors', a six-car pair of Class 730/0s would have a higher total capacity than the eight-car trains they are replacing.
'These state-of-the-art electric trains will make a real difference for customers across our network', said LNR Engineering Director John Doughty. 'The carriages of our Class 730s are longer and more spacious than our existing fleet, allowing us to carry more passengers and improve accessibility amongst a range of passenger benefits.
'We are pleased we are able to utilise the Class 730s to increase overall capacity on our routes to and from London Euston before we bring the fleet to the West Midlands next year.'
The operator said the new trains would offer improved accessibility, space for up to three bikes, clear luggage racks to reduce the risk of passengers leaving items behind, digital information screens, plug and USB sockets accessible at every seat, free wi-fi and intelligent lighting which saves energy by adjusting to ambient light. The units have end gangways for multiple working, and a walk-through interior to give visibility along the length of the train.