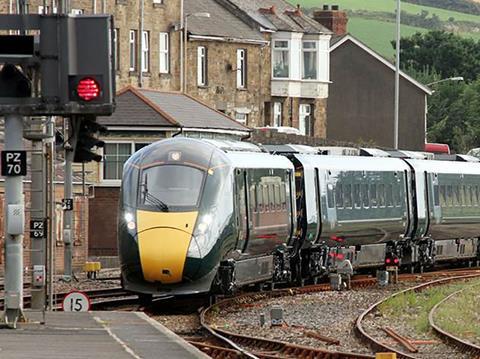 UK: Industry insiders report that progress is being made towards the reinstatement of some of the Class 80x Hitachi units currently out of service following the discovery of cracks 'behind the lifting (jack) pocket bolster'.
Although permission to return some sets to service under strict criteria was not granted by the Office of Road & Rail on May 12, further work overnight was expected to see the first sets returning to traffic shortly. Discussions are underway with ORR regarding an intensive monitoring and risk assessment process, with independent consultancy Ricardo producing a report for GWR and ORR to inform any final decision.
The Rail Delivery Group confirmed on the morning of May 13 that 'after further rigorous safety checks involving ORR's HM Railway Inspectorate, GWR and LNER will now begin reintroducing trains with a more regular service for passengers. Trains on some routes may be less frequent than usual and train availability could vary, for a number of reasons, so passengers should continue to check with the operators before they travel.'
'Today's agreement sets out our joint plan for the phased reintroduction of our trains into service, which will continue to deliver the highest possible safety standards', added Hitachi Rail Group CEO Andy Barr. 'We and our partners have worked around the clock to agree an approach which allows the return of trains to service where they have been deemed safe. With our service recovery plan now underway, we will begin reintroduction of our trains as they are individually approved.'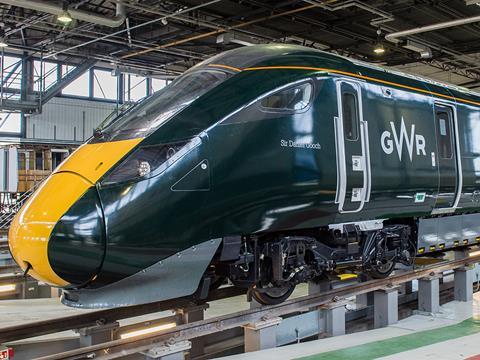 Investigations and repairs
Investigations are underway into the cause of the cracking, which is thought to be a combination of stress and chemical corrosion. Engineering insiders have refuted suggestions that the cracks around the jacking points might be related to the weight of the underfloor diesel engines, whilst noting that the diesel-equipped vehicles have a modified yaw damper set-up.
Substantial samples have been cut from sets 800026 and more severely damaged 802205 for metallurgical analysis, both in Japan and at The Welding Institute. These include one of the two Class 800 units where cracks were first discovered in early April. The second is being used as a testbed for repairs.
The design authority in Japan responsible for the AT300 product platform has given ORR and the train operators a better understanding of the role of the lifting pockets and the risks that may follow should one become completely detached. However, this is thought to be extremely unlikely, given that the components are secured at several points.
A view is developing that further cracks are unlikely to be found in significant numbers. One senior insider told Rail Business UK 'we've been through the whole fleet now with a very thorough exam. The view of the engineers is that the cracks we are finding have been there for a while, because they're not showing any fresh metal. It appears that these cracks don't develop overnight, and whilst there might be one or two that possibly creep over the line we're not expecting to find that a load more units have suddenly developed cracks.'
Rail Business UK understands that the cracks had not become visible on painted vehicles, as the new paint was sufficiently flexible to remain intact, hiding the cracks beneath.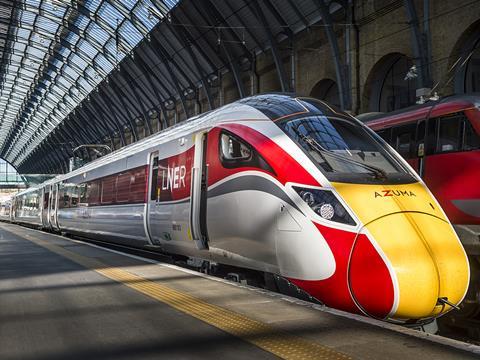 It is accepted that an extensive repair programme will be needed, covering all of the 80x and Class 385 fleets. 'Although we think that Hitachi can demonstrate that the vehicles can run, it is clear that they will have to be repaired in the medium to longer term', an insider explained. A number of options are reportedly being considered, including whether welding up the cracks would solve the problem. Alternatively, 'Hitachi might have to look at a slightly different assembly and whether they bolt it on and not weld it. The other option is whether to just cut that piece of the vehicle out and weld something new in.'
At present the bolster provides a connection between the anti-roll bar, the yaw damper mounting and the lifting bracket. Engineers are understood to be considering whether a replacement might be designed in a different way.
Once a plan has been agreed, a repair programme can be scheduled. It has been agreed that the need to disconnect all of the train's electrical equipment, to avoid it being damaged during the welding process, means that all vehicles in each set should be repaired or modified at the same time. The work is expected to be very time-consuming and industry insiders anticipate that it could take until the end of 2022 to complete all of the fleets. The work will require dedicated facilities and appropriately trained technicians.
'There are a limited number of people who have the right skills for welding railway vehicles', Rail Business UK was told. 'And there are a limited number of places where you can take the vehicles, support them in the right place and do the welding itself.' It has been confirmed that the rectification work will be overseen by The Welding Institute, while the work by Hitachi is also being independently validated by Ricardo to ensure full compliance.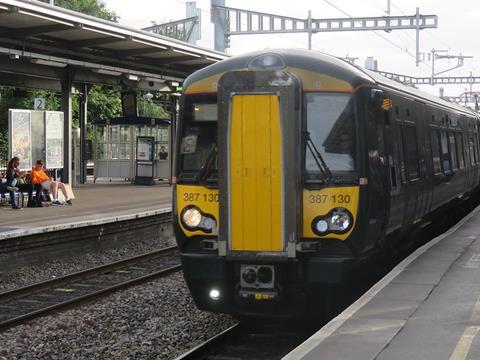 Contingency plans evolve
With a large number of trains expected to be out of service for some time GWR has continued to work on contingency plans, supported by DfT and other industry partners. Three Class 387 EMUs have been transferred on loan from c2c to add capacity to the Thames Valley fleet, once the pantograph heads have been replaced and the software is updated. Class 387s are now running through to Swindon and whilst GWR has not completed clearance to run them through to Cardiff, a process it is now accelerating, it does expect clearance to Bristol Parkway very soon.
GWR is also looking at options for its 'Castle' fleet of short-formation HSTs. It has the option to take on additional HSTs which will cease operation with EMR at the end of this week. If this materialises, GWR would endeavour to use its own power cars on any services that run into London Paddington as these are fitted with ATP equipment. As well as the additional HST vehicles on loan from LSL at Crewe, a rake of MkII coaches from Riviera Trains is also being prepared which could be used with Class 67 diesel locomotives.
DfT is understood to be leading discussions about bringing MkVa push-pull sets into service at TransPennine Express more rapidly, allowing the potential loan of three Class 802s to GWR. However, the use of such sets would be limited, as they are not fitted with ATP.