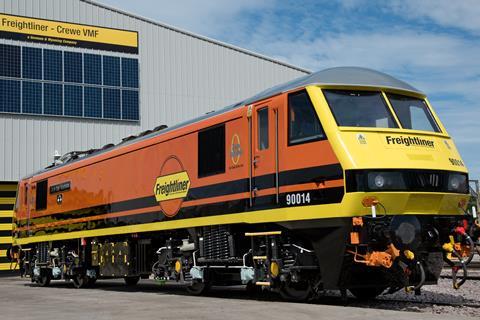 UK: As part of its strategy to decarbonise rail freight and operate longer trains, Freightliner has acquired another 13 Class 90 electric locomotives formerly used on Greater Anglia inter-city services, bringing its fleet to 23.
Purchased from Porterbrook, the locomotives are being modified and refurbished ahead of their use on intermodal trains. Speaking during the launch of the first locomotive at Freightliner's Vehicle Maintenance Facility in Crewe on July 30, Genesee & Wyoming's CEO for its UK/Europe Region companies Gary Long told Rail Business UK that the additional Class 90s were 'an investment in the future'.
Confirming Freightliner's aspiration to see much more freight transferring to rail, Long said 'modal shift from road to rail is a purpose that we are constantly committed to. Being carbon neutral by 2030 would be spectacular for the whole industry and we're making a commitment to that right now.'
G&W European Engineering Director Tim Shakerley said the locomotives' drawgear and buffers needed modifying for intermodal service. 'We are also updating the TDM system so we can multiple them and putting in current limiters so that we don't draw too much power from the network when we operate double-headed freight trains.'
Shakerley said Freightliner was 'really keen to support' infill electrification between major passenger routes to create an electrified freight network, as 'acquisition of the Class 90s pushes our electric fleet into the future. It enables us to haul freight up and down the network using electric traction, which is as close to carbon zero as we can get'. He said the ageing Class 86 locomotives that are being replaced will not be withdrawn, but put into warm storage pending potential life-extension. 'We're still hopeful that there will be a growth of electrification across the network that will allow us to continue to expand our electrically hauled freight services', he explained.
Recognising key workers
The first refurbished Class 90 has been named to recognise the work done by key workers during the Covid-19 pandemic. The name 'Over the Rainbow' had been selected through an internal competition, being proposed by Freightliner Train Planner David Clay who unveiled the nameplate and accompanying plaque.
Long explained that 'we wanted to not only recognise those critical NHS workers, but all key workers, and particularly those in the transport and logistics industry. We are all having to deal with the daily challenges of the Covid-19 pandemic, but none more so than the key workers who continue to transport vital medical supplies, goods to keep supermarket shelves stocked and other services to keep our country running during these unprecedented times.'
Freightliner had been designated as a vital service which meant that its drivers, ground staff and front line management had to be at work when other people were being advised to stay safe at home. Although business had started 'depleting away' as the pandemic took hold, Long explained, 'we needed to keep the trains running'. Freightliner took advantage of the government's furlough scheme to protect its workforce, avoiding the need for any redundancies.
Paying tribute to G&W colleagues, including four who had died from various causes during the pandemic, Long said 'despite the challenges of Covid, our front line has gone about daily life in our terminals and depots with the simple principle of just getting the job done. And they have done so calmly, responsibly and dutifully. We could not be prouder of them.'