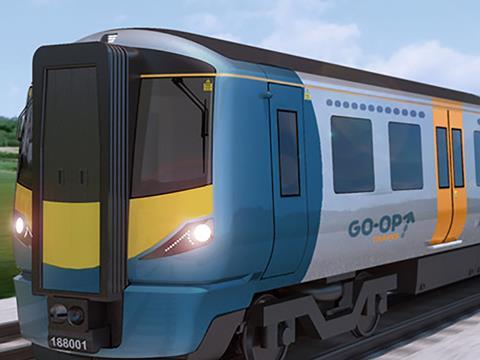 UK: Ambitious plans to launch a network of open access regional passenger services in western England are being developed by independent not-for-profit co-operative society GO-OP Co-operative Ltd, which hopes to start operations in summer 2020.
GO-OP is proposing to offer at least three direct trains each way per day between Swindon and Oxford, including some in peak hours. Two would continue via Leamington and Coventry to Nuneaton, offering an interchange with services to northern England. There would be five trips each way between Swindon and Castle Cary. From Castle Cary, four trains would run to Taunton and two to Yeovil.
According to GO-OP founder member and Operations Director Alex Lawrie, 'a particular goal is to give some of the market towns of Somerset and Wiltshire a regular, functional service where at present the low frequency makes it hard to give up the car',.
GO-OP has been working on its plans for several years, based on an idea first floated in 2009. Lawrie told Railway Gazette International that two of the largest retail co-operatives, Co-op Group and Midcounties Co-operative, had invested in early stage development. GO-OP now hopes raise funding in a similar way to large co-op energy schemes such as Westmill Wind, which has raised 'several million pounds at a time' from non-user members to developed a community-owned onshore wind farm. 'We think this kind of diverse funding from social investors, with the benefit of tax relief, gives us a broad-based and low-cost form of finance while retaining user member control', said Lawrie.
Previous UK open access operators have focused on long-distance inter-city routes, but GO-OP is aiming to provide regional services. It plans to use to Class 769 electro-diesel multiple-units converted from former Thameslink Class 319 commuter EMUs, with proposed a fleet of two in service and one undergoing maintenance. It has 'in principle agreement' for leasing company Porterbrook to supply the rolling stock, but cannot sign contracts until a track access agreement has been signed.
GO-OP believes a 'carefully designed timetable' would complement the existing franchised services provided by Great Western Railway, and 'provide useful connections so as to introduce a larger number of useful journeys than you might imagine.'
Lawrie said demand forecasting suggests that there is a big enough market to make the proposal financially viable, but 'further work is needed to verify this', and 'it may be that we will adjust the proposal – for example, if we have optimised the generation/abstraction ratio too much at the expense of revenue.'
GO-OP is planning to seek its own train operating licence. Lawrie said the technical difficulties of launching a new operator 'are hard to overstate', because 'railways are, for good reason, carefully regulated and we must prove in great detail that our ideas stack up.'