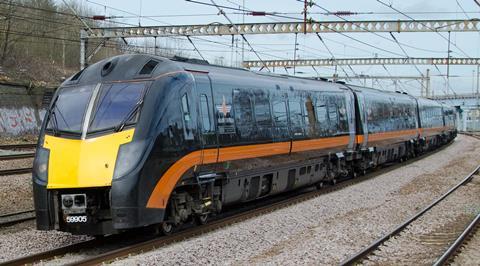 UK: The future of open access services remains uncertain as both Hull Trains and Grand Central face up to the implications of tighter Department for Transport requirements on passenger safety when rail services are stepped up from May 18.
Talking to Rail Business UK, one senior industry insider questioned 'will they be able to return?' Another explained that 'open access is very much like hospitality, there are overheads to cover and with social distancing you need to weigh up whether you can provide sufficient covers against that overhead'.
Both companies have suspended all operations and placed most staff on the government's furlough scheme. Now that employers are being asked to 'start sharing' the costs from August, even if staff return to work on a part-time basis, this will prove difficult until the trains are earning sufficient revenue to cover operating costs.
Passenger numbers are expected to be restricted to no more than 20% of normal capacity, which has serious implications for businesses that rely on high occupancy rates to make their services viable.
When Hull Trains suspended its operations Managing Director Louise Cheeseman emphasised that the company had not been offered the financial support which government had provided to franchised operators. Grand Central's Managing Director Richard McClean said that running a train service that brought in no revenue was 'unsustainable'.
Both operators have stated their intention to return, with McClean promising that Grand Central 'will come back stronger and more resilient'. The Managing Director of First Group's rail division Steve Montgomery said the group's 'commitment to Hull Trains and the entire East Yorkshire and Humber community is as strong as ever, as evidenced by our recent introduction of a £60m fleet of new trains'.
Nevertheless, one insider suggested to Rail Business UK that the open access services could only resume with short-term support from the DfT until passenger numbers return to pre-lockdown levels. They noted that both operators serve areas of the country which had 'lent their vote' to the Conservative party in the December 2019 general election and the government's response could be crucial to retaining this support.
The situation has also attracted concern from the unions. TSSA's Manuel Cortes said 'Grand Central and Hull Trains are furloughing their staff because otherwise they'd go bust during the pandemic. This drop in passenger numbers has hit them hard.' RMT General Secretary Mick Cash pointed out that 'there are nearly 250 hard-working rail staff caught in the crossfire of the Grand Central service suspension'.
Calling for government assistance, ASLEF General Secretary Mick Whelan said it was 'deeply disappointing that the government, which has bailed out the train operating companies in the failed franchise sector, has refused to help the open access operators. It's also ironic, as successive Tory Transport Secretaries have banged on about creating more competition by opening Britain's rail network up to more open access operators and then the government discriminates against them!
'If DfT thought we needed open access operators before the coronavirus crisis, then surely we will need open access operators when we come out on the other side? It's perverse to discriminate against them.'