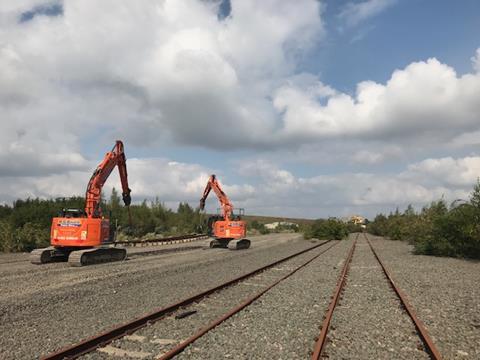 UK: Temporary tracks are being laid to facilitate construction of the Mossend International Railfreight Park to the east of Glasgow.
The track being used has been recovered from Bedfordshire, and will be removed once construction is completed.
'This represents a major milestone in the construction of MIRP, Scotland's newest Strategic Railfreight Interchange', said David Stirling, Director of site operator Peter D Stirling Ltd, on October 5. 'It will provide a modern, multimodal solution for businesses based locally as well as across the UK and Europe, accommodating 16 trains per day as part of a 24/7 operation.'
The rail terminal is scheduled to be completed in Q4 2022, with development of the distribution park to commence in early 2023. It will have eight new 775 m sidings and two fully autonomous rail-mounted gantry cranes, with space for warehousing, container storage and lorry parking.
The terminal will be able to handle up to 16 electric trains per day and transfer over 16 million tonnes of goods per year.