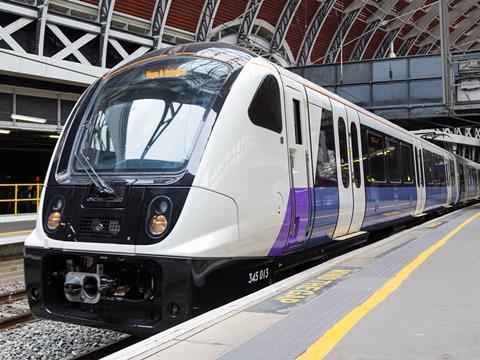 UK: The Office of Rail & Road announced on May 11 that it had approved the use of ETCS onboard equipment on the Bombardier-built Class 345 EMUs, paving the way for the trains to be introduced on TfL Rail services to Heathrow Airport.
The 70 nine-car Aventra EMUs procured as part of the Crossrail project are intended to operate Elizabeth Line services to the airport, replacing the Siemens Class 360 EMUs that currently work stopping services between London Paddington and Heathrow Airport.
Operation in ECTS Level 2 on the airport branch will allow the removal of the obsolete ex-BR ATP equipment from the tunnels, once the Heathrow Express Class 332 EMUs have also been replaced by GWR Class 387 Electrostar units that are now being retrofitted with ETCS.
The Class 345s have been authorised under the Railways (Interoperability) Regulations 2011, as meeting the requirements of the Command, Control & Signalling Technical Specifications for Interoperability. The approval allows operation of the ETCS onboard equipment in levels 0, 1 and 2, as well as using the national train control systems.
However, in its letter of authorisation to Bombardier, ORR notes three restrictions based on non-compliance with notified national technical rules, one affecting the TPWS and two the ETCS Driver-Machine Interface. Removing the DMI conditions will require evidence of a new derogation from RSSB or compliance with the standard to be agreed by a relevant assessing body.
The authorisation also notes 84 areas of non-conformity with the CCS TSI, many of which relate to ETCS functionality not used in the UK.
Commenting on the announcement, HM Chief Inspecting Officer of Railways Ian Prosser said it was 'a good and thorough effort' from the ORR team, which demonstrated that 'our work continues despite the difficult challenges we all face' during the coronavirus pandemic.