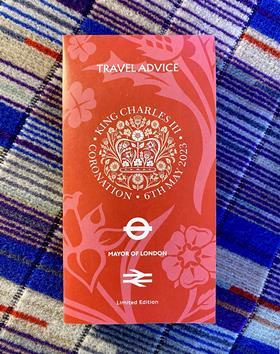 UK: Additional services, longer trains and queuing systems are planned to handle the crowds who are expected to travel to events marking the coronation of King Charles III and Queen Camilla at Westminster Abbey on May 6 and the concert to be held in Windsor the following day.
The Rail Delivery Group, Network Rail and Transport for London are working closely with the government and other partners to handle the crowds. RDG says operators are working hard to ensure journeys will be running smoothly over the long weekend, but services are expected to be busy and queueing systems may be in place.
Passengers are advised to check real-time information throughout their journey to take account of any short notice changes while they are en route, and to dress appropriately for the weather conditions as they may need to queue outside.
There will be travel ambassadors at rail, London Underground and bus stations to provide directions and assistance, and Network Rail's managed stations in London will be decorated with 'entertainment and fun' laid on.
Train operators
Great Western Railway is to provide extra very early morning trains from South Wales, Devon and Cornwall and in London and the Thames Valley, with an hourly overnight service on Friday.
'The coronation really will be a one-off event for so many people, and one that showcases Great Britain on the global stage', said Sales & Marketing Director Amanda Burns. 'We will be pulling out all the stops to help those who wish to travel to the capital to do so. Trains will however be really busy, so please do check your journey in advance, and allow plenty of time.'
Thameslink & Great Northern Customer Services Director Jenny Saunders said 'we'll be running our trains at their maximum length on May 6 so that everyone gets to enjoy the celebrations'. However, there will be closures for the Cambridge area re-signalling programme and additional track work on May 7-8.
All Greater Anglia services will run as normal on May 6, and trains on routes into London will run with the maximum number of coaches available, though the operator will be affected by engineering works on May 7-8.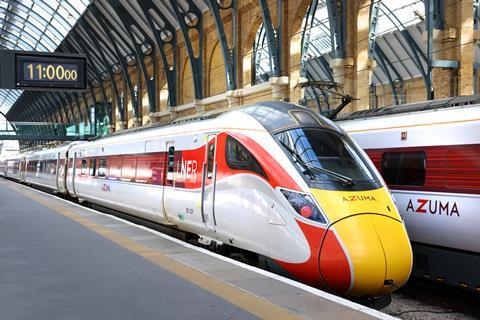 LNER will be operating its full timetable over the coronation weekend, and commemorative chocolate coins have been produced for passengers in first class.
It is following predecessor operators on the East Coast Main Line in naming a train service, with the daily 11.00 train between London King's Cross and Edinburgh Waverley to be branded as the Carolean Express starting from coronation day.
'We're delighted to be continuing the tradition', said Managing Director David Horne. 'We know that our customers like to hear about our named services and fleet and we're sure this new addition will prove popular.'
On the day of the concert, GWR services on the Slough to Windsor & Eton Central branch will be lengthened and increased from two to three per hour. South Western Railway will run additional services between Windsor & Eton Riverside and London Waterloo before and after the concert, with queueing systems in place. Trains will run into the early hours of Monday morning, with frequency reducing as demand decreases; passengers are asked to catch the first train possible.
Elsewhere in the country, Northern says it is prepared for services to be busy. 'The coronation weekend will be a great opportunity for people to come together and mark this national event — and that means they'll need to travel around the region', said COO Tricia Williams. 'We're operating our regular timetable over the course of the three-day event, helping people get from A to B.'
Transport for London
London's Transport Commissioner Andy Lord said 'public transport remains the best way to travel in London during the coronation weekend and is at the heart of making this historic occasion a success'.
TfL will be running a normal service with no planned closures, although bus routes in Westminster will be diverted or stop short.
Given the likely demand for public transport, passengers should consider walking to their final destinations; road closures mean people exiting London Victoria station may only be able to access the screening site at Hyde Park.
To mark the occasion TfL has added an image of St Edward's Crown to the roundel logos at Underground stations in the event area, as well as at some Elizabeth Line and Overground stations and key interchanges in central London.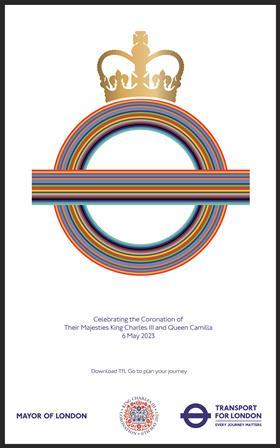 A commemorative poster that pays homage to one created for the coronation of Elizabeth II will be displayed across the network. This features the crown and the roundel 'reimagined using the vibrant colours of all TfL services and Underground lines from across the entire network as a symbol of the pivotal role TfL plays in the lives of Londoners and visitors during history-making moments'.
Limited edition travel advice leaflets recreating the 1953 Coronation leaflet will be available in selected Underground and bus stations as well as National Rail stations on May 6.
How Railway Gazette reported previous coronations