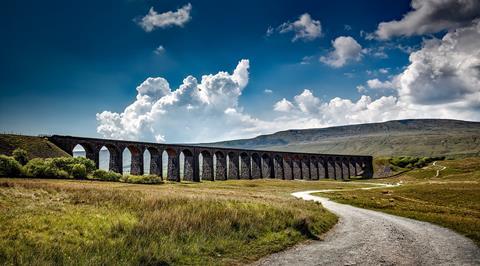 UK: With the coronavirus restrictions significantly impacting on the leisure market, a new company has been established to operate dedicated tourist services on the picturesque Settle & Carlisle line this summer.
This will be the first time that a dedicated charter train operator has run a regular timetabled tourist service in England alongside the incumbent franchise operator.
The project has been developed in just eight weeks, with the support of Northern Trains and Network Rail as well as local stakeholders. The services are being promoted through the newly formed Rail Charter Services Ltd, working in close co-operation with established marketing organisation Settle Carlisle Railway Development Co.
Operating under charter rules, the train will run three times a day between Skipton, Settle and Appleby on Monday to Saturday from July 20 to September 12. RCS Director Adrian Quine told Rail Business UK that that a number of factors had led to selection of the route, including the need to operate several trips a day and a lack of paths into Carlisle. A 90 min journey is seen as attractive to the 'family day out' leisure market, and the chosen segment includes the most scenic part of the line, including Ribblehead and Dent Head viaducts, Ais Gill and Blea Moor. There will be connections at Skipton with services from Leeds and Bradford.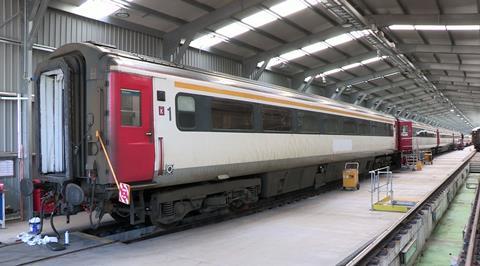 Social distancing
Rolling stock is being supplied and operated by Locomotive Services Ltd, whose owner Jeremy Hosking is backing the project financially. Each train will be formed of four MkIII first class coaches recently released from Greater Anglia, and a Class 47 diesel locomotive at each end. The train will be serviced in the existing yard at Appleby.
Although the social distancing guideline in England has now been relaxed to 1 m, the train has been configured to meet the recommended 2 m separation if necessary. Plastic dividing screens are being installed between seating bays, and the aisle seats in the 2+1 configuration will not be used. This leaves 32 window seats available in each vehicle for a maximum of 128 passengers per journey.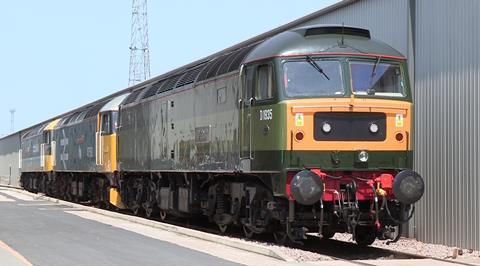 The planning has focused on offering a service for families as a tourism product rather than targeting the enthusiast market. Tickets for the 180 km round trip will only be sold in pairs, with fares of £29, £34 and £39 per person increasing in steps as the booking window shortens. Quine said these fares 'compare well with off-peak return prices for similar length journeys elsewhere in the country', particularly as all accommodation is first class. Tickets will be sold on a 'day return' basis, offering passengers the option to book a long day out from either end or a straightforward return trip. Bookings will be restricted to specific pairs of trains as shown in the colour-coded timetable (below).
Plans are being developed to offer onward tour options including the Lake District and Eden Valley. Settle Carlisle Railway Development Co will provide 'pop up' catering stalls at Settle and Appleby offering locally-sourced food and drink, to augment its café at Skipton.
Northern support
Quine explained that RCS was 'working closely with Northern Rail, the Rail Delivery Group, Network Rail and the Settle Carlisle Development Company, all of whom have shown both pragmatism and a genuine willingness to get this exciting new service up and running'.
Industry insiders suggest that delivery of the project has been simplified because Northern Trains is under DfT control via the Operator of Last Resort. Managing Director Nick Donovan has expressed his support for the initiative at a difficult time for the TOC. In normal conditions, Northern struggles to provide sufficient capacity to meet leisure travel demand on the Settle & Carlisle route during the summer, as releasing extra rolling stock conflicts with the need to maintain capacity into major cities. This year, the shortfall has been aggravated by the social distancing requirements.
It has been suggested that this project could 'test the water' for similar operations to support the leisure industry during the post-Covid recovery. Trains suited to leisure travel could prove more attractive than those with layouts designed for commuter or business travel. Although the rolling stock is not fully accessible, it meets the more flexible rules for charter trains and modifications would be possible if the concept were to be replicated on other routes in future.
No ORCATS raiding
Rail Business UK understands that the charter train model is being used to ensure that the services are not seen as an open access 'raid' on TOC revenues which could establish a difficult precedent for the Department for Transport. However, the rail sector needs to appear proactive and the support from all parties has been welcomed.
Rail Delivery Group Director of Policy John Thomas said 'as an industry we positively welcome innovative ideas that will help to boost capacity, once travelling by public transport for leisure is no longer being discouraged by government. As restrictions are eased, these extra services will help to support people to travel more safely and boost the local tourist industry by enabling people to enjoy a beautiful part of the country.'
Timetable details
Passengers will be able to book one of three train combinations giving the opportunity for a short or long day out from the south (yellow or green) or round trip from the north (blue).
Provisional timings
Yellow
Green
Blue
Depart Skipton
08.35
12.20
16.12
Depart Settle
09.00
12.40
16.34
Arrive Appleby
10.00
13.35
17.33
Blue
Green
Yellow
Depart Appleby
10.35
14.30
17.55
Arrive Settle
11.30
15.26
18.48
Arrive Skipton
12.03
15.47
19.08