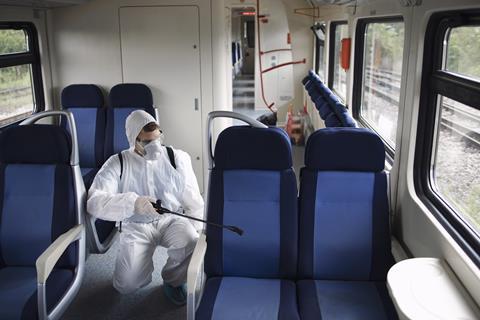 UK: Recognising 'a clear anxiety and resistance of the public to step out of the comfort of their homes following five months in lockdown', REACT Specialist Cleaning has put forward a series of recommendations for enhanced cleaning routines that it hopes will help rail operators to restore passenger confidence.
According to Operations Manager Dave Rudge, 'it is crucial to reduce the risk of exposure to Covid-19 as the UK slowly begins to get back on public transport. Train operators in particular must take precautions to ensure both the public and employees are kept safe, with a focus on cleaning, hygiene and infection control to provide greater protection from SARS-CoV-19.'
REACT has been providing deep cleaning and decontamination services for various train operators throughout the pandemic. As well as regular deep cleans, it has been called on to provide decontamination within 4 h when staff members or passengers displayed symptoms of infection. This was undertaken by specially trained operatives with specialist equipment and suitable PPE.
Three-step methodology
'Rail operators must look to adopt more rigorous cleaning methods to ensure the protection of both their staff and the public as the UK looks to return to more "normal" lifestyles', Rudge explains. 'Whilst deep cleaning does not necessarily need to be a part of everyday schedules, it is crucial to complete an initial professional and thorough clean of the entire train, followed by consistent, regular cleaning with the most effective disinfectants.' He recommends a three-step approach to ensure an 'effective and consistent' regime: clean, disinfect and test.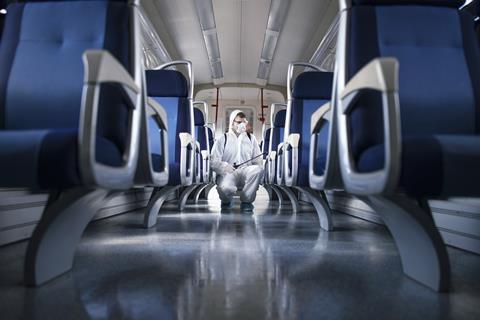 First, all areas should be cleaned with a pH neutral solution, such as hot soapy water, to remove lingering dirt, dust and oils which can absorb the virus. Then a virucidal disinfectant is applied to high-touch areas such as tables, handles, door buttons, arm rests and toilets, using products certified to be effective in disabling coronaviruses similar to SARS-CoV-2. However, Rudge warns that many disinfectants contain quaternary ammonium or chlorine compounds which are potentially harmful and may cause damage or create a different kind of health hazard, such as skin irritation and breathing issues. He recommends the use of environmentally-friendly disinfectants as a safer alternative which can be just as effective.
ULV fogging of an entire train using a certified sanitiser is seen as the most effective way to protect against coronaviruses, whilst taking care to avoid sensitive areas such as electrical equipment. Foggers are able to cover larger areas rapidly, and the disinfectant has greater surface contact time to destroy any threats that may be present. However, ULV foggers deliver disinfectant droplets ranging from 10 to 120 µm, and should only be used with products that are safe for use in the presence of people when adjusted to levels below 80 µm.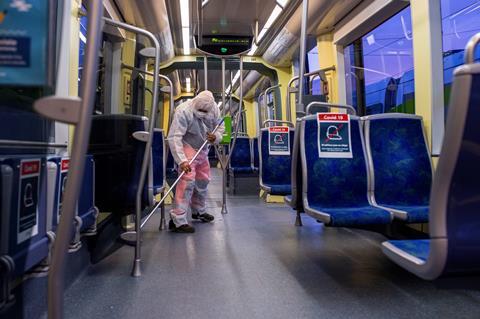 Rudge says Adenosine Triphosphate testing is 'the most useful way of testing the efficacy and thoroughness of the cleaning regimes in place'. Thus is done by wiping a swab across the surface, inserting it into an active substance and then measuring the output on a hand-held 'luminator'. This indicates how much bacterial, virucidal or cleaning residue has been left on the surface. ATP testing is strongly recommended for high-touch areas, as a way of provide confidence that the cleaning regimes in place are as effective as possible.
Looking ahead, he reports that REACT is continuing to test new technologies for use in the rail sector, including new-to-market chemicals and the use of UVC light for disinfecting.