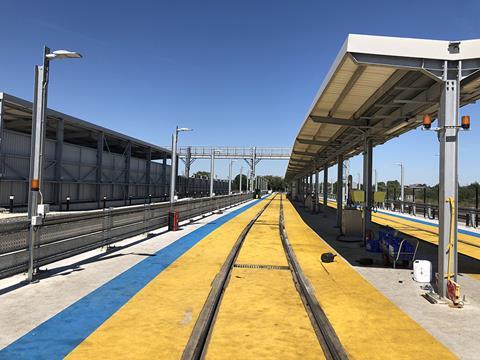 UK: The Zonegreen Depot Personnel Protection System at Chiltern Railways' Banbury depot has been linked to the facility's Fenix Tiefenbach signalling system, making it possible for trains to enter directly from the main line without needing a stop/start entrance and exit procedure.
Installation was undertaken by Zonegreen and contractor Orton Group.
If staff log on to DPPS, the signalling system is prevented from setting a route onto the road where personnel are working. Warning beacons and klaxons offer an additional audible and visual element to the safety procedures, indicating when vehicles are in motion.
'Linking depot protection and signalling is relatively new, but demand is high among construction projects, as the system offers a much smoother means of moving vehicles, without compromising safety', said Zonegreen's Technical Director Christian Fletcher. 'Having worked with Fenix, the UK representative for Tiefenbach, on a number of projects, we have now developed a standard interface that is fully proven.'